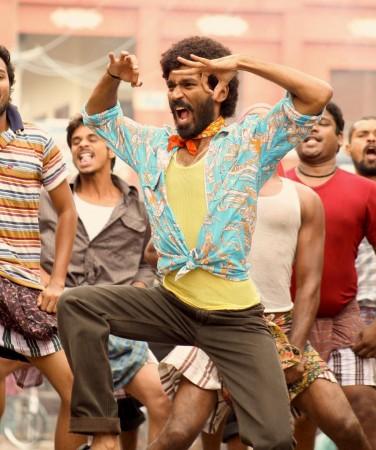 The trailer of the much awaited movie "Anegan" starring Dhanush has been released, and as expected, it proves the versatility of the actor in the best possible way. The actor has managed to entice audience with his different looks in close to two minutes.
The trailer indicates that the movie is all about love, romance, revenge, fantasy and imagination. It evokes mixed emotion and moods and at the same time keeps the audience guessing about the movie. The trailer with Dhaunsh's four different looks and the fast paced cuts have managed to keep the feel of a great thriller.
The trailer begins with Dhanush in the look of a typical distressed man with a rustic feel. He is seen chasing someone but looks lost. Next few shots and dialogues gives a feel that the movie is a romantic one, but the mood changes completely all of sudden with some heart wrenching shots of a car accident.
The teaser then evolves slowly to a different era where Dhanush is seen in much younger looks of a young techie and as a prince. The visuals and the dialogues make a shift between these different eras and is well supported by the background score.
The fast moves and fight sequences assures that there are some special scenes for hard core Dhanush fans too. The dialogues and some graphics add charm to the trailer.
Karthik's role of a business head with a young man's heart also looks appealing. The performance of lead actress Amyra Dastur also look promising. The rest of star cast, which includes Aishwarya Devan, Ashish Vidyarthi, Atul Kulkarni, Mukesh Tiwari, Vinaya Prasad, Arul Vijay, have also made sure that they have ample scope for performance in the movie.
A special mention has to be given to cinematographer OM Prakash who has made sure that his frames are vibrant and appealing and editing by Anthony kept the fans at the edge of their seats.
Over all, the trailer of the movie has raised hopes and kept audience wondering about Dhanush's role and looks.
Here are some of the reviews from the audience
"Not able to guess the story that is how a trailer should be. I am a dhanush fan I am waiting please please release the film as soon as possible and dhanush mass in this trailer." – Siddharth Seshadri
"Simply mass extraordinary stylish trailer perfect cut" – Deepak Kumar
"In 1:03 Dhanush only can do this... He is an example for dedication... Hats off ji..." - Ajith Kumar
"Whatever be the story it is worth of watching brilliant acting of dhanush, racing screenplay of KV and SUBA and Navarasa Nayagan's lovable act after a long gap"Jagan Dhamu
"A brilliant attempt by kv anand..dhanush acting and character changeover is amazing..a love beyond time and boundaries.. Waiting for the movie..release the movie as soon as possible." - Bala A
"Looks to be a different attempt - the trailer somewhat reminds me the yesteryear classic Nenjam Marappathillai - Lets see how K.V.Anand fares in his screenplay. Eagerly waiting for the movie!"- Ram Kumar
"Looks like a another innovative intelligent thriller by KV Anand, Looking forward for this.."- Mohammed Fahim
"Looks like another innovative intelligent thriller by KV Anand, Looking forward for this." - Vignesh Waran