Every month, Google publishes its Android distribution numbers giving us an idea what percentage of Android smartphones in existence run which version of Android. The search engine giant skipped the report for the month of March, but it has updated it for the month of April, and as usual there's very little that has changed in terms of Android Oreo.
The numbers for Android Oreo users are still disappointingly low. The Android version which was publically released almost eight months back in August 2017 still runs on a meager 4.6 percent of all Android-powered devices despite a four-fold increase from last month.
A further breakdown of the numbers shows that Android 8.0 has jumped from 0.8 percent in February to 4.1 percent in April – a decent 3.3 percent increase. The latest and greatest Android 8.1 sees a marginal 0.2 percent jump from 0.3 percent in February to 0.5 percent in April.
Though the numbers are anything but impressive, they are still quite good compared to previous months. Some of the credit for the rise of Android Oreo's market share can be given to smartphone OEMs who have finally started rolling out the update for their older devices. The likes of Samsung have begun rolling out 8.0 Oreo for phones like the Galaxy S8, Galaxy S8+ and the Galaxy Note 8, while companies like OnePlus and Nokia are updating their phones to Android 8.1.
Also, the fact that a lot of new smartphones from companies like Nokia and Honor are launching with Android Oreo preinstalled out-of-the-box helps the fact.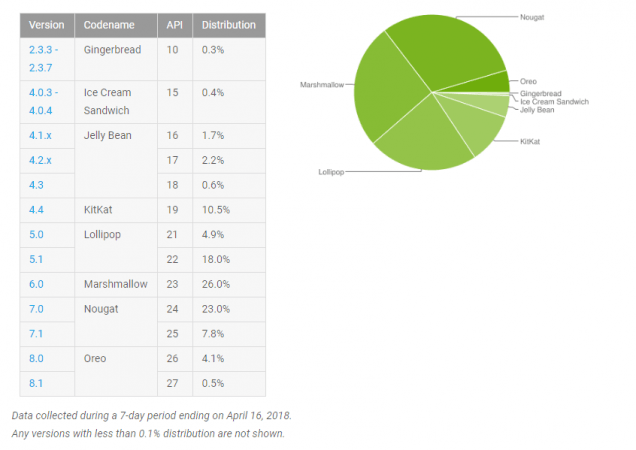 Meanwhile, Android Nougat continues to be the most used Android version on smartphones with a combined market share of 30.8 percent. While Android 7.0 Nougat has a market share of 23 percent, a 0.7 percent rise from last month, Nougat 7.1 has 7.8 percent.
Nougat is followed closely by the two-year-old Android Marshmallow which enjoys 26 percent of the pie despite seeing a 2.1 percent fall since the last report. What's surprising though is that many of the older versions like Android Lollipop (5.0 and 5.1) still hold a combined market share of 22.9 percent, and Android KitKat, which was released almost five years ago, still powers 10.5 percent of the devices.
The ancient Android 4.1 Jelly Bean still holds a market share of 4.5 percent, while Ice Cream Sandwich at 0.4 percent and Gingerbread at 0.3 percent still make their presence felt. The report also details that Google compiled the data from Android devices that accessed its Play Store during a 7-day period ending April 16, 2018.
Google's distribution numbers suggest that either a lot of people are simply ignoring the updates and using their phones with the older software, or that people are holding on to their older devices for longer, contrary to what the trends make us believe.
And while every time the blame is put on the OEMs who don't release timely updates for their smartphones, there are a lot of factors that determine how certain older Android versions are still very prevalent, while newer versions are finding it hard to breach even the 10 percent mark.
Nevertheless, Google has come up with a new program called Project Treble which could help address the issue to some extent. According to the program, every new smartphone with under Project Treble will receive timely and latest Android updates. How much it will benefit users and manufacturers, in the long run, is yet to be seen. However, in the meanwhile, it will be interesting to see how soon the Project Treble supported devices will be updated to Android P once Google releases it.