Price and the colour options of the much-awaited pure-Android flagship Google Pixel 2 series has surfaced online, leading to excitement among fans.
Google, which is known to have a secure R&D facility, seems to have been breached, as technology blog Droid Life has sourced a truckload of information on Google Pixel 2 series from its vault.
As per the report, Google Pixel 2 will be coming two models — the Pixel 2 and the Pixel 2 XL.
Also read: Made for India: Google Tez mobile payments app debuts on Apple apps and Play store; here's how to get started [Video]
It had been reported earlier that HTC, which assembled both first-generation Google phones, would manufacture both the 2017 series models as well.
It has now come to light that HTC will be making only the generic 4.97-inch Pixel 2, while the bigger 5.99-inch Pixel 2 XL will be made by LG.
The HTC-made Pixel 2 is said to come in three colours — "Kinda Blue, Just Black and Clearly White". The LG-made Pixel 2 XL will be offered in two shades — a panda-hued "Black & White colourway" and another raven-coloured "Just Black".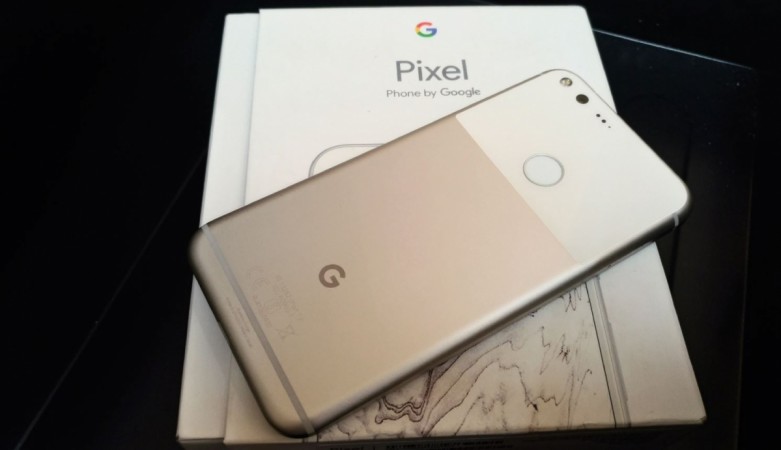 The leaked images show both the Pixel 2 and the Pixel 2 XL — barring the screen-size — have the same design language. They sport a dual-tone glass-and-metal finish similar to their predecessors.
However, there is a minor change in design: The glass will cover only the topmost part, while most of the rear will have a metal shell. The fingerprint scanner will be out of the glass enclosure.
As far as pricing is concerned, the Pixel 2 is said to be offered in 64GB and 128GB variants for $649 (approx €540/Rs 41,783) and $749 (approx €624/Rs 48,221), respectively.
Google is also expected to offer them with contracts for $27.04 (approx €22.52/Rs 1,741) per month and $31.21 (approx €25.99/Rs 2,009)/month, respectively, over 24 months.
The Pixel 2 XL — 64GB & 128GB — will cost you $849 (approx €707/Rs 54,659) and $949 (approx €790/Rs 61,097). These, too, will be made available via contracts for $35.38 (approx. €29.46/Rs 2,278)/month and $39.54 (approx €32.92/Rs 2545)/month, respectively, over 24 months.
Google Pixel 2 series: Other expected features
The Pixel 2 XL (aka Taimen) — the bigger phone — is said to boast a 5.99-inch QHD (2560x1440p) OLED screen and come with 4GB RAM and 3,500mAh (or more) battery.
On the other hand, the Pixel 2 will boast a 4.97-inch full-HD screen with 4GB RAM and a 2,850mAh (or more) cell.
In terms of photography, Google has reportedly decided to keep a single primary camera on the back with dual-tone LED flash and EIS (Electronics Image Stabilisation) for enhanced low-light images.
Rumours are rife that both the Google Pixel 2 series models will also boast the "Active Edge" feature similar to HTC U11's key feature — the "Edge Sense" squeezable frame technology.
For the uninitiated, HTC Edge Sense technology offers users the ability to trigger advanced touch capabilities and use a "short squeeze" as well as a "squeeze and hold" for more functionalities.
Since Edge Sense takes inputs based on the pressure applied to the side of the device, it can be used in nearly any condition – including rainy weather that would normally pose a challenge with capacitive buttons.
Furthermore, the Google Pixel 2017 series will also be more durable than the first generation, as the new phones are coming with IP68 certifications, meaning device-owners will be able to take them for a dip in the swimming pool for close to five feet underwater up to 30 minutes, and even be able to take/make calls and snap photos.
Google has so far refrained from making any official comments on the speculations. We have to wait just a couple more weeks to know what Google has in store for fans, as the company has confirmed a product launch on October 4, which in all probability will showcase the new Pixel 2 series, as the Mountain View-based firm had announced the first generation Pixel phones on the same date last year.
In a related development, Google — besides the Pixel 2 series — is also expected to announce new-generation Daydream VR head gear and mini Home smart speakers.
Stay tuned. Follow us @IBTimesIN_Tech on Twitter for latest updates on Google products.