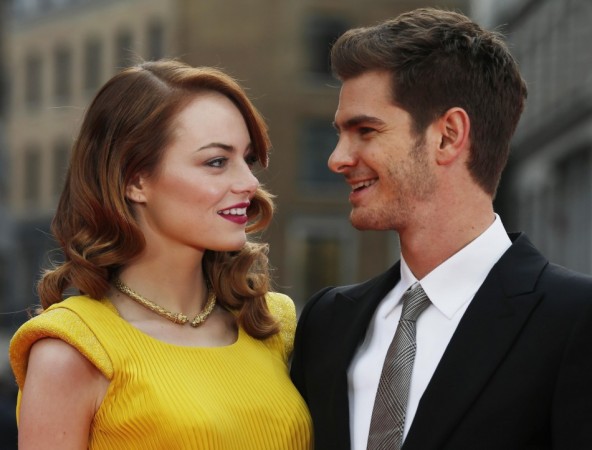 Emma Stone and Andrew Garfield fans may have something positive to look forward to. If latest reports are anything to go by, it seems like the estranged couple are officially back together.
The 26-year-old actress and the 31-year-old actor were reportedly spotted holding hands last weekend. Sparking rumours that the couple is back on, E!News reported that the two stars were seen holding hands and getting friendly as they enjoyed a meal at a eatery in Malibu Farm, California.
An eyewitness told the website that the duo was "looking happy" spending time together.
"The two stopped in Malibu Farm this week and seemed to be having a great time as they held hands inside the restaurant," the website reported.
Last month when sources confirmed that the pair is on a break, fans were left heartbroken. In fact, many found it hard to believe that one of Hollywood's favourite couples called it off because "The Amazing Spider-Man" actor allegedly cheated on his girlfriend of three years.
But recently, we reported that the couple may get back together once Andrew Garfield returns from Taiwan. And it looks like there is some kind of positive development here.
Though this certainly doesn't confirm that 'The Amazing Spider-Man' co-stars are officially back on, there are other evidences which make things look very hopeful.
Interestingly, this sighting comes after Entertainment Tonight caught Stone hugging and kissing Garfield's parents at the screening of her new movie "Aloha".
Also, in an interview with Diane Keaton, the "Birdman" actress gushed about Garfield. "He is such a poet. But that's the way he writes in general. So I hear it and of course my heart swells up. And I also know that he writes things like that on a daily basis," the actress said after hearing a quote from Andrew.
Well, we don't know if the celeb couple is getting back together or have decided to remain good friends. But at this point all that we can do is wait for an official relationship status update from Andrew Garfield and Emma Stone themselves.