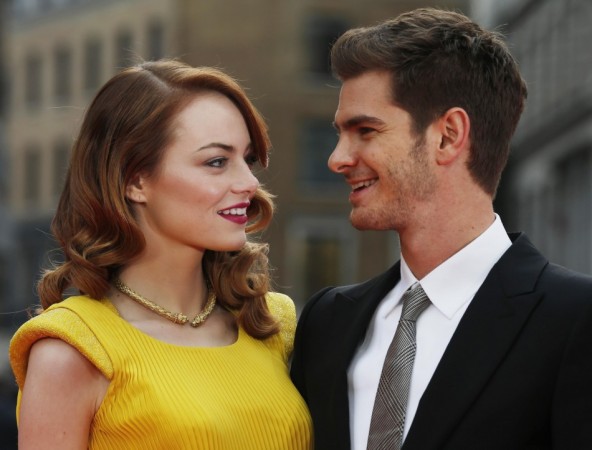 Andrew Garfield and Emma Stone are tight-lipped about their break-up. While several reports have suggested that the two have headed for splitsville, many still believe that there's hope and the couple will get back together.
Whether the couple is "on a break" or have "broken off" is not clear as yet, and the two newly-single stars were spotted doing their own things happily.
While the Oscar-nominated actress was snapped in a very chirpy mood balancing a water bottle, phone and sneakers outside a gym, Andrew is busy wrapping up filming "Silence" in Taiwan.
The former "Amazing Spider-Man" star looked pretty happy during a press conference with Martin Scorsese to promote his new movie.
Andrew and Emma had announced there "break" early April and after that various reports speculating the cause went viral online. Some suggested that Andrew cheated on Emma, while others stated that our man was jealous that the actress was earning more than him. In fact, some went ahead to say that Garfield was done with Stone's addiction to partying and shopping.
But officially, the stars had called it a "break" because of their busy schedules which didn't leave them much time for each other. And this is the reason why many fans/followers of the stars don't buy these break-up theories. They think that the whole issue has been blown out of proportion.
"Is it just me, or was this article a completely incoherent mess? How about just saying Emma is in LA, Andrew is still in Taiwan. No one knows what's going on except them but Emma deliberately dropped a huge hint last week [carrying a bag with Andrew's name on it] that the tabloids are full of BS and we'll find out soon enough what's going on when Andrew comes back to America in a couple of weeks?" a user commented on an E! News article.
"It's kinda hard to run errands together if he's still on the other side of the world. In the press conference Garfield said he's still filming in Taiwan, sounds like they're done May 15th now, so maybe calm down on your speculation until he actually gets back?" wrote another user.
One of the hottest couples at Met Gala last year skipped the event this year, leaving many fans disheartened as they had expected to see them together again.
Well, looks like you guys will have to hang in there till Andrew Garfield or Emma Stone clear all your doubts.