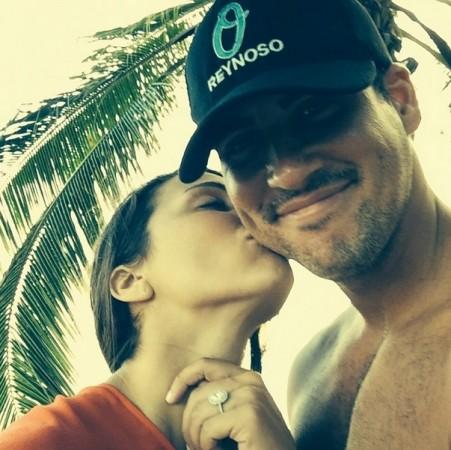 "The Bachelorette" stars Andi Dorfman and her fiancé Josh Murray are already said to be fighting, and if a recent report is to be believed, the reason for the tiff is Dorfman's refusal to have babies.
"If it was up to Josh, Andi would have gotten pregnant yesterday," an insider close to the couple revealed to Life and Style magazine's 18 August issue, according to HollywoodLife.
The insider added that Murray wasn't expecting Dorfman to put up a fight when it came to babies, as she said during the finale of "The Bachelorette" that she can't wait to start a family with the former baseball player.
But Dorfman appears to have other intentions. The magazine reported that Dorfman has been bitten by the fame bug, and she wants to utilise all the opportunities she get to appear in front of the camera. Pregnancy might cast a pall over her plans
"She quit her job as an assistant district attorney because of the amazing opportunities that are coming her way," the same insider shared about Dorfman's intentions. "She wants to work in TV and is interested in acting and hosting."
This report comes shortly after the finale of "The Bachelorette," where Dorfman chose Murray over Nick Viall, who later dropped a bombshell on the show when he claimed that Dorfman led him on, and even slept with him during their Fantasy Suite date.
Although Murray appeared to have been unaffected with the revelation, sources close to the couple told the media that Viall's confession had strained their relationship. Reportedly, Murray has been acting possessive and controlling, and athough Dorfman initially found it cool, she does not feel the same way now, reports said.
"Josh can be controlling and jealous," a Life & Style insider said. "He's very insecure about the relationship, and even more so after watching everything unfold on TV and seeing Andi tell other guys she's in love with them."
"She's a fiercely independent person and loves going out with her friends," the source added. "At first, she thought his jealousy was cute, but now that they're not hiding their relationship, he's jealous all the time and I'm not sure how cute she's finding it."
Dorfman and Murray are set to marry in 2015, and according to reports, their wedding ceremony will also be televised.
Dorfman recently said in an interview with Jezebel magazine that she would like to get married exactly one year since Murray's proposal.
"I think I would love a spring wedding. You know we have to work a little bit around football. The [NFL] season ends around January or February-ish. Obviously Aaron (Josh's bro) is going to be in the wedding, so we're going to wait until his season is over, which is fine because I don't really want a winter wedding. I'd like to plan a little bit, but I think we'd love to do it May 9, which would be exactly a year from the proposal," she said, according to the Hollywood Gossip.