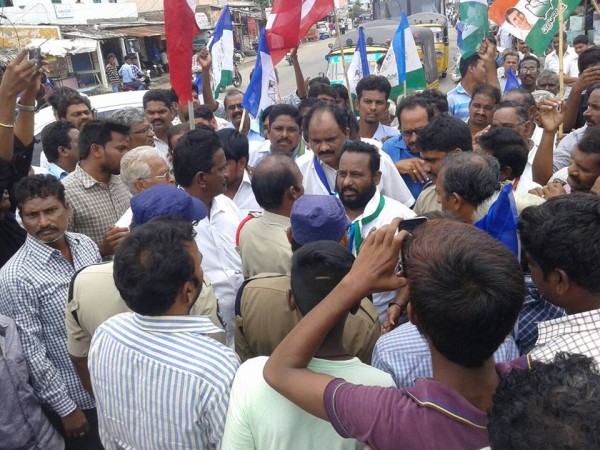 A bandh called by the YSR Congress Party (YSRCP) in Andhra Pradesh in protest against the Centre's refusal to give special status to the state affected normal life on Tuesday. Businesses and academic institutions were shut in observance of the bandh.
Many YSRCP workers were arrested by the police as they tried to stop corporation buses from plying and attempted to organise protests. The State Road Transport Corporation stopped its services in the state.
Many YSRCP workers were arrested in Vijaywada for trying to stop buses from moving, the Indian Express reported.
The Telugu Desam Party (TDP) also joined in the protests on Tuesday. The protests were held after Finance Minister Arun Jaitley said that Andhra Pradesh wouldn't be given special status. However, the Centre would help out the state until it's economically stable.
YSR Congress and TDP had come together and stormed the Well of Parliament on Monday to demand special status. YSR Congress, the Opposition party in Andhra Pradesh, had appealed to people to make the bandh a success and criticised Naidu for "deriding the issue telling that special status is not a wonder drug and answer to all problems."
The TDP, an NDA partner, also continued its protest in front of Mahatma Gandhi's statue outside parliament in New Delhi.
According to reports, TDP could leave NDA if their demands are not met. Chief Minister N Chandrababu Naidu is said to be disgruntled over the Centre not giving the state desired funds after Telangana was created.
I appeal to workers, students, social organizations, political parties and intelligentsia to join hands in the fight for justice in demanding the special status which is the future of our state as the Centre has made it clear that it would not accord special status and the State has failed in convincing its coalition partner on the issue," YSR Congress leader Botsa Satyanarayana told reporters on Monday.
The party also said that TDP joined in the protest asking for special status only after YSRCP made their demands.
Both BJP and TDP have gone back on the special status and the bandh call given by YSR Congress would be to fight for the future of the state as industrialization only can pave way for development of the state," Satyanarayana said.

Let us all join hands and make AP state bandh a success. Let's have our voice heard for #SpecialStatus. @ysjagan pic.twitter.com/6J4DkLIuHQ

— YSR Congress Party (@YSRCParty) August 1, 2016
The bandh on Aug. 2 was supported by the Congress, the CPI and the CPM as well.
Then Prime Minister Manmohan Singh made several promises, including grant of special status, to Andhra Pradesh during bifurcation in 2014. It is the responsibility of the central government to fulfil those promises," CPM politburo member Prakash Karat said.

Bandh call given by Congress in force and total from early morning all over Andhra Pradesh. pic.twitter.com/FgSOMV7XFG

— Jai Chiranjeeva (@CHIRU_NEWS) August 2, 2016
గుంటూరులో కొనసాగుతున్న ప్రత్యేకహోదా బంద్.. #Apspecialstatus @ysjagan
For more pics: https://t.co/AkE5jrqZI6 pic.twitter.com/8ZQUDGrQCQ

— YSR Congress Party (@YSRCParty) August 2, 2016
#LokSabha adjourned twice in pre-launch session after protest by #TDP and #YSR Congress over demand for special status for #AndhraPradesh — All India Radio News (@airnewsalerts) August 2, 2016
ప్రత్యేకహోదా బంద్ - శ్రీకాకుళం. For more pics click here : https://t.co/6O3o1sGe8m#Apspecialstatus @ysjagan pic.twitter.com/iUE2R4DuXK

— YSR Congress Party (@YSRCParty) August 2, 2016