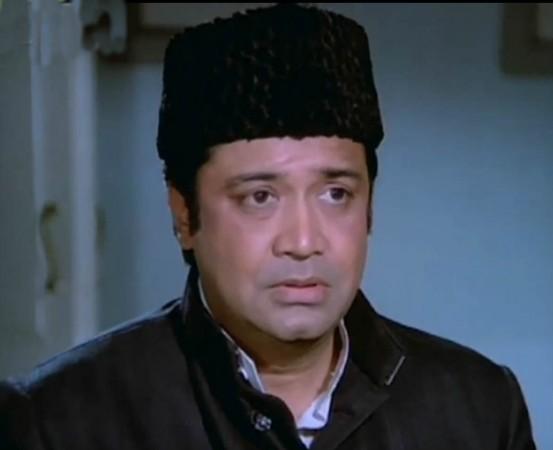 Veteran actor Deven Verma, who tickled the funny bone of Hindi film goers for more than four decades, died of a heart attack at his residence in Pune at around 2.00 am on Tuesday, 2 December. He was 78.
The cremation of his mortal remains will take place this afternoon at Yerawada crematorium in Pune.
Deven Verma, who was born on 23 October 1937 and brought up in Pune, was a graduate with Honours in Politics and Sociology. He was married to Rupa Ganguly, daughter of veteran Bollywood actor Ashok Kumar and was known for his unique comic timing and entertained viewers for many years.
He started his acting career as a character artiste with Yash Chopra's movie "Dharmputra" in 1961. He was last seen in Director Sudhir Mishra's 2003 thriller movie "Calcutta Mail" starring Anil Kapoor, Rani Mukerji and Manisha Koirala in the leads. Apart from Hindi films, he also acted in a few Marathi and Bhojpuri films.
In his acting career spanning four decades, Deven Verma featured in more than 80 movies in Hindi, Marathi and Bhojpuri. "Angoor", "Dil To Pagal Hai", "Kya Kehna", "Dil", "Ishq", "Hulchul", "Deewana" and "Andaz Apna Apna" are some of his notable movies. He also won the Filmfare for Best Comedian for his wonderful performance in movies such as "Angoor", "Chor Ke Ghar Chor" (1979) and "Chori Mera Kaam" (1976).
The actor has worked with numerous superstars such as Shah Rukh Khan, Aamir Khan, Salman Khan, Akshay Kumar, Ajay Devgn, Saif Ali Khan, Mithun Chakraborty, Rajesh Khanna, Shashi Kapoor, Sanjeev Kumar, Ashok Kumar and a few others.
Besides acting, he also directed and produced several movies and "Yakeen" (1969), "Nadaan" (1971) "Bada Kabutar" (1973), "Besharam" (1978), "Chatpati" (1983) and "Dana Paani" (1989) are some of them.
The sudden death of the actor left many shocked and they took to Twitter express their condolence.

Rhea Srivastava
RIP Bahadur, Pareshan Mama, Murli Manohar, Dara, Niranjan. RIP #DevenVerma. You will be sorely missed.
Nitin Srivastava
Notable comedian of Indian cinema and late Ashok Kumar's son-in-law #DevenVerma passed away this morning. #RIP you made our childhood light
Shantanu
R.I.P. #DevenVerma . You will always be in our hearts with your simplistic and hilarious performances.
Siddharth Jain
#RIP #DevenVerma! You're subtle comedy wud always bring a smile to our faces. Thank you for the entertainment.
Narendra Tripathi
Actor Deven Verma,not just a comedian but a dignified performer passed away. RIP #devenverma.The current film industry was not meant for u
Aashish Sharma
#Devenverma sir u will be truly missed great legend , true human and a mind blowing acting #RIP #SORETHROAT
Sanjay D
Comedies could be slap stick or just DevenVermaish ..will miss him loads #DevenVerma R.I.P
Vimarsh Munsif
RIP #DevenVerma Sir. Bahadur will always stay in our hearts. #Golmaal & #Angoor are the most iconic comedy flicks ever. #ThankYouSir
Vikram Chhachhi
RIP #devenverma For a bunch of us, you will remain the original comedian who spread such joy at the movies
Jatin
Feeling sad to hear about demise of #Devenverma. May his soul RIP. Rare breed of comedian with subtle comedy.
Payal Mehta
Veteran actor #DevenVerma passes away. Known for his impeccable comic timing my fav role being #Angoor #RIP
Anas Hussain
May your soul Rest in Peace, #DevenVerma. You will be missed, you'll always be remembered for Chor ke ghar chor, Angoor many more flicks.
Nisha Shukla
#DevenVerma one of the veteran actor, who surely made a mark on Bollywood with his comic performances,will b in our hearts and prayers #RIP