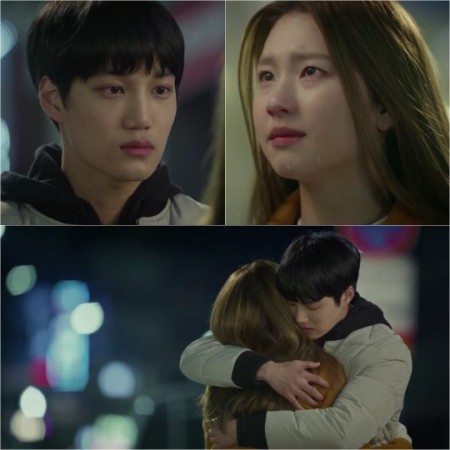 Andante, the KBS teenage drama starring EXO member Kai in lead role, will be back with a new episode this Sunday, November 12, at 10.10 am KST.
Episode 8 will probably feature an emotional reunion between the transferred high school student Lee Shi Kyung and his mysterious classmate Kim Bom.
Three newly released behind-the-scene stills tease a reunion between the onscreen couple.
Also read EXO member Kai starrer KBS drama Andante opens to rave reviews
While the first image features a close up shot of Lee Shi Kyung looking at Kim Bom with tearful eyes, the next photo shows Kim Bom struggling to hold back her tears.
Meanwhile, the third promotional image shows the onscreen couple sharing a big hug.
However, the preview for Andante episode 8 hints at troubled moments for the high school students. It shows Lee Shi Kyung telling Kim Bom that he is still angry with her.
"I would like it if you didn't do that job. It does not make me happy to have you do things for me with that money," Lee Shi Kyung says during a telephonic conversation with Kim Bom.
The promo then shows Lee Shi Kyung indirectly apologising to Kim Bom during a class presentation. "Being able to say I'm sorry, that's something l can never do," he says.
But before Lee Shi Kyung completes his sentence, Kim Bom collapses on the floor and all her classmates try to help her.
The preview for episode 8 of Andante also shows Lee Shi Young and Park Ga Ram spending quality time with each other.
In the promo, he takes her to a medical school and says, "If I do go to college, I have to go to medical school. I have had that though since back then. I came to this medical school building back in junior high, too."
Watch the preview below:
Click here to watch Andante episode 8 live online on KBS1 at 10.10 AM KST. Korean drama lovers can also watch the mini-series online here.