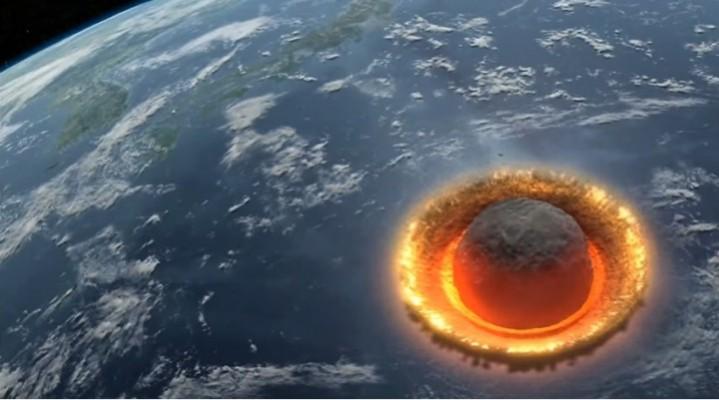 A new study says that more volatile and long-lived volcanic eruptions took place on Earth because of an asteroid around two billion years ago. The meteor collision also remarkably impacted the evolution of early Earth.
Also Read: NASA's Mars Rover examines active linear dunes on the Red Planet
The meteor strikes left huge craters all over Earth. Researchers previously believed that the cosmic impacts concluded when the age of dinosaurs came to an end approximately 66 million years back, when a crater of 180 km (110 miles) was left near Mexican town of Chicxulub.
As per recent studies, the craters which originate because of a meteorite impact -- Gargantuan craters – have been found pock-marking the remaining solar system too. Impact craters like this can be seen on Moon, Mercury, Mars and Venus as well and these impacts have the potential of causing volcanic activity.
But over the years, geological activities have led to the eradication of numerous ancient crater impacts on Earth.
"This has limited research into whether meteor strikes could also set off volcanism on Earth," said study senior author Balz Kamber, a geochemist in Trinity College Dublin in Ireland.
One of the oldest craters present on the 1.85-billion-year-old Sudbury basin in Canada was examined by the researchers. This is the second largest and best preserved crater on the planet. This crater possesses a diameter of around 150 to 260 km (161 miles). As per estimations of a previous study, a 15 km (9.3 miles) asteroid might have created this crater.
Samples of 1.5km (0.93 mile) thick rocks which filled the Sudbury crater were accumulated by scientists in the study from 2013 to 2014. Though the crater can be easily accessed by researchers, Kamber stated "there are lots and lots of blackflies in the spring, and later mosquitoes, and in the summer, there are a lot of blueberries, and so a lot of black bears."
A total of 139 samples were analysed by the scientists from 15 locations in the crater. It was found that these samples didn't only comprise of rock which had melted due to the impact, but also consisted of small fragments of volcanic rocks.
It was found that the shape of these volcanic rocks was similar to crab claws. Such shape formations take place when gas bubbles expand in molten rock which explodes catastrophically after that. The researchers explained that it is similar to the feature seen under glaciers in Iceland.
The Sudbury volcanic rocks are believed to have formed suddenly or gradually, when the crater was flooded by seawater.
The composition of these rocks differed in nature, some of the rocks originated from molten crust, whereas others originated from "a deeper magma source," Kamber elucidated.
"These findings suggested that the volcanic activity that created these rocks changed over time and was therefore prolonged," Kamber was quoted as saying by Live Science.
"This volcanism caused by the meteor lasted for a maximum of million years, but hundreds of thousands of years seems to be a more reasonable estimate."
"About 3.8 billion to 4 billion years ago, we know the inner solar system experienced heavy bombardment from impactors," Kamber added. The oldest rocks on the planet coincide with the last peak of this bombardment, suggesting that the older rocks on Earth were somehow destroyed by this bombardment.
"The bombardment alone would not have done sufficient damage to have caused the comprehensive loss of primordial rocks on Earth, but if that bombardment also triggered additional eruptions, that could have buried the primordial rocks and ploughed them back into the mantle," Kamber concluded.
The scientists said they are now investigating whether the deep magma they found in the crater came from the deep crust or from the mantle layer just beneath Earth's crust.
.