Ananth Rao, a gymnast from Mysore became physically challenged after he met with an accident in the city, but he still hopes to make it big in Paralympic Games and wants to earn his livelihood.
Rao started performing gymnastics from his 6th standard and represented Dharwad and Mysore in district-level competitions. Later, he went on to participate in several state-level competitions. He also represented Karnataka 15 times at national-level competitions. He won 3 silver and 2 bronze medals at South-Asian level.
Everything seemed to be heading in the right direction but one fateful day on October 12, 2010, he met with an accident while performing at the Mysore Dussehra competitions. While doing a somersault, he landed on his neck. His spinal cord got injured making him handicapped.
He was rushed to a nearby private hospital immediately. He underwent further treatment in another private hospital in Bengaluru. He could not complete B Com due to the accident. However, the mishap couldn't dampen his spirits as Ananth Rao aspires to make it big in Paralympics.
The Karnataka state government granted him a Rs 3,000 as monthly pension which is too little to make both ends meet.
In an interview with International Business Times India, Ananth Rao spoke about his struggles after the accident and the government apathy.
"The government got me the initial treatment and also gave me a pension of Rs 3,000 per month, which is not enough for livelihood. If such accident had happened in any other foreign country, the athlete would have got huge benefits. But in India, a sportsman has to face a lot of problems, when he meets with an accident," he told IBTimes India.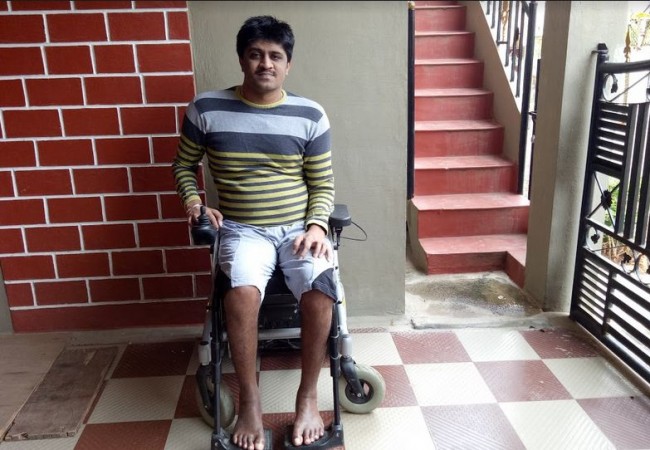 Rao said that there is no scope for any sport except cricket in India. "Gymnasts have huge scope in foreign countries and participants get a lot of respect and many benefits. But in India, only cricket has scope and players get crores of rupees. Sportsmen like me have no value in this country," he lamented.
The injured athlete had to run pillar to post to get justice but in vain. "Several media houses reported my problems, but the government has remained silent. I sent several applications for a job, but I was ignored. I'm handicapped and I can't fight for justice. Hence, I have lost all hopes and don't have expectations from the government," Ananth Rao said.
Fighting against all odds, Ananth is yet to stop dreaming. "I'm taking treatments like stem cell and physiotherapy. After undergoing treatment for a year, I have plans to participate in wheelchair events in Paralympic Games. I have already spoken to a coach to train me. Meanwhile, I am also learning VFX and Animation at home and I want to work from home to earn my livelihood."
His story of dedication and resilience is truly inspiring for everyone.
Meanwhile, Ananth Rao is undergoing stem cell therapy right now and he needs Rs 2.5 lakh for the same. While his monthly pension is Rs 3,000 per month, his medical expenses are Rs 3000 per day.
Donors who wish to support him financially can do so with the help of details provided below:
Name: Ananthrao
A/C number: 35700448323
Bank: State bank of India
Branch: Kuvempunagar (MYSORE),
IFSC Code: SBIN0009053
Mobile no: 9741560492
Email ID: ananthrao.mys@gmail.com