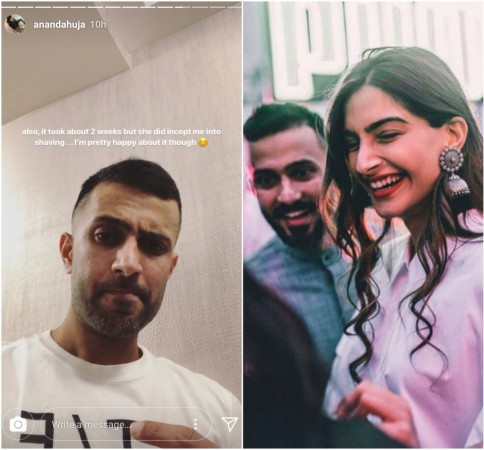 Recently, Anand Ahuja took to his Instagram account to raise a complaint about her lady love. In a series of videos, Anand says: "So everytime I am going back to India from London, boss a.k.a Sonam always asks me to get her chocolates. She always asks me on the last day. Now you must be thinking that I should buy it earlier. But the problem is that the chocolate she wants is always different and keeps changing every 4-5 weeks. Sometimes she wants salt, espresso, hazelnut etc. If she had told me earlier, I wouldn't have to run around. But luckily I went out and this is all I could get at the last minute. I hope you like it Sonam. Share with your girls and eat responsibly."
And in the next picture, he wrote: "Also it took about 2 weeks but she did incept into shaving... I'm pretty happy about it though. I did incept her with this song though - God's Plan. And Sonam hates this part: "She says, "Do you love me?" I tell her, "Only partly. I only love my bed and my momma, I'm sorry"
Coming to the strong rumours and speculations that she will be tying the knot with Anand Ahuja soon, she told Mid-Day: "Why are actresses asked more about their personal lives? Is anyone asking Ranbir Kapoor or Ranveer Singh when they are getting married? There has to be sanctity to some parts of my life. Nobody has the right to access my personal life. This one part has to be in my control. I am ready to talk about me, but there is another person involved here and I need to respect him."
On the professional front, Sonam Kapoor will be seen in Rhea Kapoor production - Veere Di Wedding which will hit the screens on June 1.