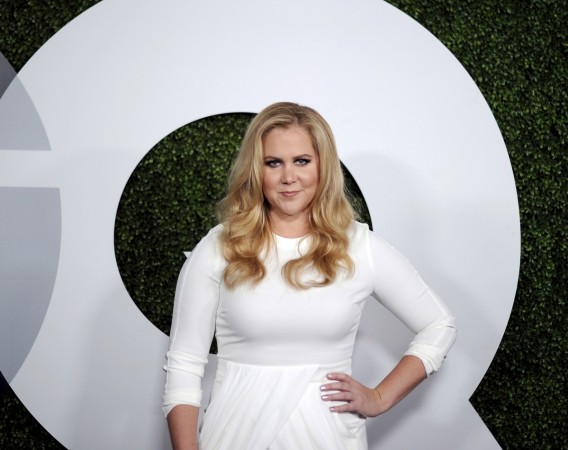 Amy Schumer gave a fitting response to body shamers who criticised the comedian for posing on a magazine cover wearing a white bikini. Schumer faced backlash after In Style magazine posted the cover page featuring her on Instagram.
The 35-year-old comedienne, however, responded to the body-shamers through her latest Instagram and Snapchat stories. On Saturday, she posted a series of photos in which she is seen wearing a bikini on Instagram and Snapchat in response to the controversial body-shaming comments.
In one of the photos she is wearing a black bodysuit, while in another, she is seen walking on the beach wearing horizontally-striped bikini bottoms and a strapless top. In yet another photo, she is seen enjoying paddle boarding in a red bikini.
Also Read: Comedian Amy Schumer buys back the family farmhouse for her father
She ends her Instagram story with a photo that flaunted her assets in a sheer black bodysuit. "I feel great. No haters can f with my baseline," the message on the photo read.
Schumer also shared the cover photo of the magazine and tweeted, "Proud to be on the cover of @instyle! Thank you @laurabrown99 @kimmykuppkakes @andrea_tiller @cristinaehrlich @jessseinfeld and #CarterSmith."
The controversy started after swimwear designer Dana Duggan commented on In Style magazine's post on Instagram, saying that the magazine could have taken someone else for the photoshoot.
"Come on now! You could not find anyone better for this cover? Not everyone should be in a swimsuit," Guggan wrote on Instagram.
Talking to Huffington Post she said, "I'm tired of the media and publications trying to push the FAT agenda. It's not healthy and it's not pretty. What is wrong with featuring healthy and fit cover models?"
Check out Amy Schumer's bikini photos below: