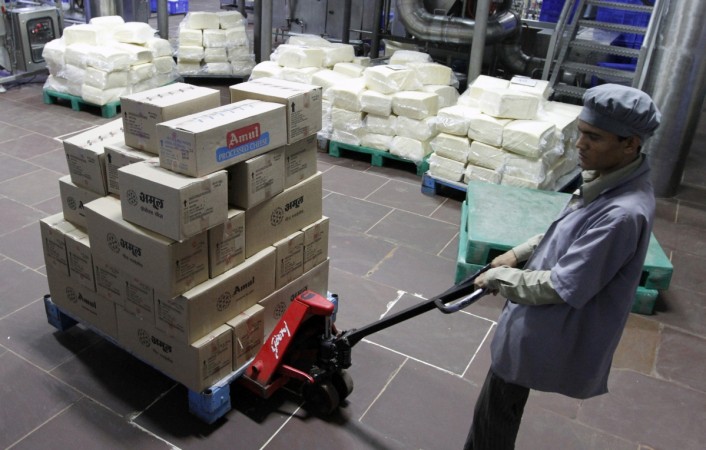 Amul, the flagship brand of Gujarat Cooperative Milk Marketing Federation (GCMMF), is eyeing turnover of Rs. 50,000 crore by 2020, buoyed by rising demand for milk and milk-based products. The dairy cooperative's turnover increased 11 percent to Rs. 23,005 crore in the financial year 2015-16.
Amul's turnover has risen nearly threefold in the last three years. The "Taste of India" company took into consideration the continuous rise in demand for its products before estimating the 20 percent growth in turnover over the next four years, Press Trust of India reports.
"So now, we have set a target of Rs. 50,000 crore turnover by 2020 on the track of the expected growth in sale of both value added products and milk," RS Sodhi, managing director of GCMMF, was quoted as saying by the agency.
GCMMF procured 1.86 crore litres of milk everyday in 2015-16, up from 1.48 crore litres in the previous financial year. About 50 percent of the company's turnover comes from sale of milk, while the rest comes from value-added products.
"Value-added products' sale has been showing tremendous growth. The sale of beverage products like Amul Kool, fermented products like curd and butter milk has risen sharply. So all these are pushing our growth rate," Sodhi further said, PTI reports.
The brand Amul, which is the largest milk producer in the world, started operations in 1965 in a small town called Anand in Gujarat (its current headquarters). GCMMF sells milk, cheese, bread spread, butter, ice-cream, paneer and chocolates, among various other things under the brand name Amul. It has about 40 processing plants in Gujarat and is associated with about 36 lakh farmers, according to its website.
Amul advertisment boards are extremely popular and in line with the present trends:
[1 lakh = 100,000 | 1 crore = 10 million | 100 crore = 1 billion]