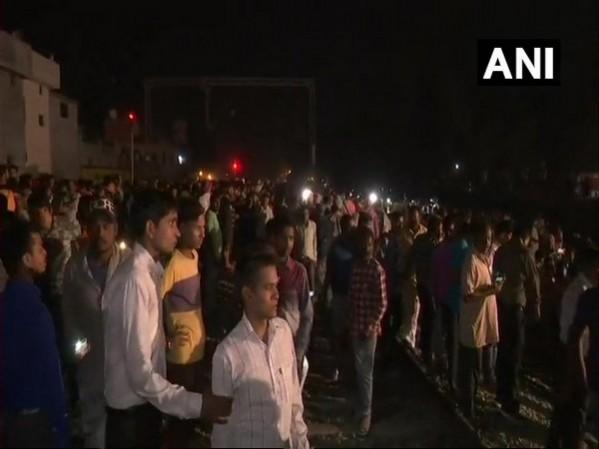 In the wake of one of the biggest railway accidents of the year where 59 people were mowed down by a train on the Jalandhar-Amritsar DMU line, the railways have brushed off any need of a probe into the incident, calling those present on the tracks trespassers.
On Friday, 19 October, a crowd of over 4,000 people gathered at Amritsar to watch a massive fireworks display. A good portion of the crowd was on a railway track near the grounds. A train mowed down the spectators, killing nearly 60.
Navjot Kaur Sidhu, wife of Union Minister Navjot Singh Sidhu was the chief guest at the event. People reportedly moved to the railway tracks because it was elevated and they could get a better view of the show. The event's organiser, Dussehra Committee (East) president Saurabh Madan Mithu, allegedly boasted to Navjot Kaur that people would not move. "Look at the 5,000 people who are here for you [Navjot Kaur Sidhu]. They will not move even if 500 trains were to pass."
Mayor of Amritsar—Karamjit Singh Rintu — has said organisers of the programme put the show together without even applying for any permission for the Ravan Dahan celebration. This statement was corroborated by municipal commissioner Sonali Giri, notes the report.
The railways, on the other hand, have simply pointed to the law and said that the people who died are "trespassers". It is a "clear case of trespassing" and organisers did not get any permission for the event by the railways, a senior official told PTI. "There was so much smoke that the driver was unable to see anything and he was also negotiating a curve," he explained.
Railway officials have also mentioned that they were not likely to compensate the deceased as they were not passengers in the train. "The incident was not a railways' fault. There was no lapse on our part and no action against the driver will be initiated. People should refrain from organising such events near tracks in future. I think if precaution had been taken, the accident could have been averted," he explained.
"There was a curve. The driver couldn't have seen it. What should we order an inquiry about? Trains travel in speed only," said Sinha.
However, the Times of India report notes that a statutory inquiry by the Commission of Railway Safety—a part of the Ministry of Civil Aviation—will be conducted.
Section 145 of the Railways Act makes it clear that tracks are "highly dangerous". In fact, merely walking alongside a railway track carries a sentence of up to six months.