It's a proud moment for Amitabh Bachchan as his son Abhishek Bachchan's recently released film "Dhoom 3" is doing phenomenal business at the box office.
Megastar Amitabh took to social networking sites Twitter and Facebook to praise his son for the success of "Dhoom 3".
"Dhoom 3", released on 20 December, has crossed the ₹100 crore mark in its opening weekend and is now the fastest film to reach that target. The action thriller is the third film in the "Dhoom" franchise and Abhishek has been a part of all three films.
Abhishek reprises the role of assistant commissioner Jai Dixit in "Dhoom 3".
The action thriller has set records at the worldwide box office with its box office earnings.
Praising his son, Sr Bachchan pointed out on Facebook that the film's collection is just incredible.
"#Dhoom3 collects ₹100 + cr in first week end .. that is incredible and just out of the park !! Nearest to this number was ₹80 cr for CE ! And this little fellow Abhishek is now in it .. never imagined this would be so," Big B posted on Facebook along with a photo.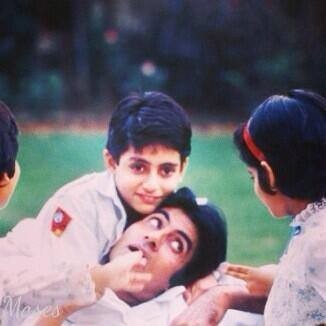 "'Dhoom 3' weekend collection all India is ₹ 107 crore. This is going beyond all records ever !! And going beyond berserk," Bachchan posted on Twitter.
"#Dhoom3 ... first day collection all world ₹ 56.22 cr ! That is just ONE DAY !! broken all records of non holiday and holiday openings !!"
"Just back after a cast and crew film trial of DHOOM 3 .. there is no doubt whatsoever that this film is SPELLBINDING !!"