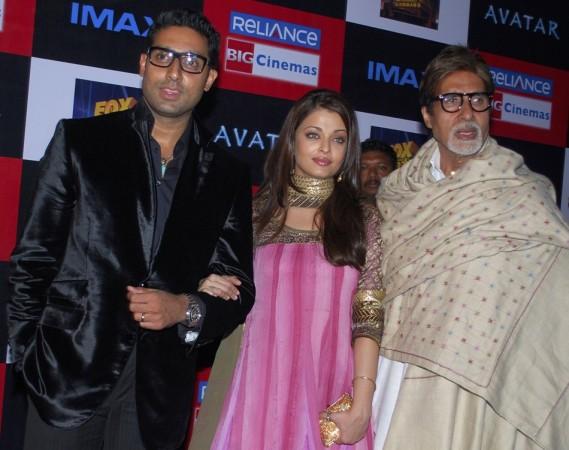 The Bachchan trio - Amitabh, Aishwarya Rai and Abhishek - will share screen space again, if all goes well.
Last year, a leading home appliances brand had signed Aishwarya and Abhishek as their brand ambassadors. And through its ads, the celebrity couple appeared together onscreen, after a gap of four years.
And now, it seems the Bachchan trio - last seen together in "Sarkar" (2005) - will team up again onscreen after almost a decade. However, this time they will be seen in a TV advertisement as after Aish and Abhi, the home appliances brand is now reportedly planning to add Big B to the group.
The negotiations between the brand and Bachchan are currently underway. The brand is also planning to launch a huge publicity campaign, to create an impact on the viewers, Filmfare reported.
If an agreement is reached, the father-son duo will appear in a television ad for the first time. Amitabh and Aishwarya have been endorsing a jewellery group together, for the past two years.
The Bachchan trio was last seen together onscreen in "Sarkar" and also in the famous item song "Kajra Re" from "Bunty Aur Babli" a few weeks prior to it.
Aishwarya and Abhishek became the brand ambassadors of the home and kitchen appliance group only last year. The celebrity couple had reportedly charged ₹6 crore a year as their fee and will endorse the brand for three years. [Read the report here]
This is for the time that a brand has chosen a high-profile Bollywood couple to endorse them.
"It is the first time that a kitchen appliances brand has chosen a high profile Bollywood couple as brand ambassadors. We are happy to have Aishwarya and Abhishek endorse our brand and help us take the brand to newer heights," the company's Managing Director Srinivasan Ravichandran had told Press Trust of India.
(Ed: VP)
Scroll down to watch Aishwarya and Abhishek's ad: