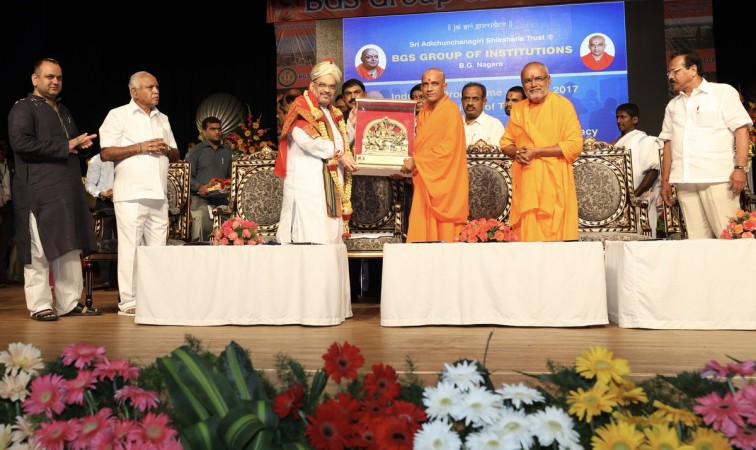 Amit Shah's recent visit to Karnataka to re-group the Bharatiya Janata Party has landed in a controversy after a picture of the party chief sitting with his legs crossed went viral on social media and WhatsApp.
In the photo, Shah is seen sitting alongside Sri Nirmalanandanatha, the seer of Adichunchanagiri mutt. The BJP president is resting his left leg on his right and this act before the 'swamiji' is seen as an insult by his followers.
Actress-turned-politician Ramya, who is now the head of Congress' social media team, shared a WhatsApp forward with a statement saying, "Heights of arrogance. Is this a culture? Is it a decency? Boycott the president of the national party for disrespecting the seer."
Many Congress supporters on social media sites have said that Shah would not have done it for a brahmin or any other upper caste seer.
Apart from the controversy, Shah had heaped praises on Sri Nirmalanandanatha when he met him on Sunday, August 13. He released a book titled 'The Story Of A Guru' written by Sudha Mahi Raghunathan.
He hailed the mutt's contribution in the field of education and health. "Setting up 466 institutions with 1.35 lakh students and a 2,000-bed hospital is miraculous," Deccan Chronicle quotes him as saying.
The daily adds that Shah had a closed door meeting with Sri Nirmalanandanatha. His visit is seen as an attempt to woo Vokkaligas, who are considered as a powerful community in Karnataka politics.