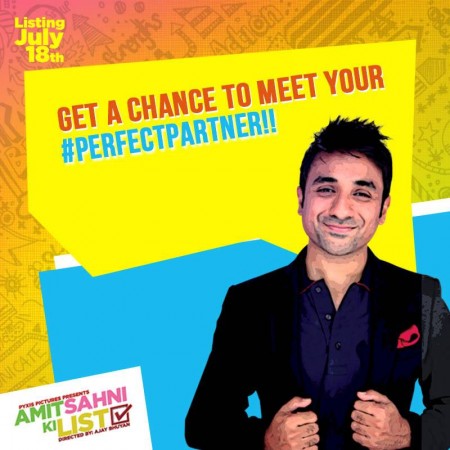 "Amit Sahni Ki List," released on Friday, is a refreshing romantic comedy story, according to critics. The film features Vir Das, Vega Tamotia and Anindita Nayar in the lead roles.
Directed by Ajay Bhuyan, the film revolves around the story of an investment banker, played by Das, who is searching his perfect woman of his 'list.'
The film has few funny moments, which will tickle your bones, but it has too many flaws also.
Check out the reviews below:
Mohar Basu of Koimoi.com said: "Despite a great concept, director Ajay Bhuyan cannot mount his story well. It is not entirely a horrid film but quite a disappointing film simply because the premise ​and the concept could very well have been furthered, but the director finds himself wrapped in warped storytelling. Rom-coms need a spin of freshness to sell; this film had scope for a lot, all of it wasted on a film that could not remain lucid.
"Amit Sahni Ki List isn't exactly some excruciating film to endure but it doesn't bloom enough to qualify as a crackling film. The director's slapdash work is evident and that mortally harms the film."
Renuka Vyavahare of The Times of India said: "In spite of the smart comic punches, timing and earnest performances, the story lacks the ability to engage you thoroughly. A few scenes (Amit seeking relationship advice from his best friend) seem unfunny.
"Mismatch or Miss Right? Instead of waiting for that 'perfect rom-com', you can give this a try."
Taran Adarsh of Bollywood Hungama said: "The movie deserves credit for incorporating some quirky punches minus sex jokes that keeps the humor element intact, even in dramatic and emotional scenes.
"On the whole, AMIT SAHNI KI LIST is a feel-good film that tickles your funny bone with its witty dialogues. Holds appeal more for the urban audience!"
Kusumita Das of Deccan Chronicle said: "Amit Sahni Ki List is one of those very few films in Bollywood that seem to know a thing or two about romantic comedies. The film has an American sitcom like feel, the dialogues are crisp, the pace is decent, some jokes may remind you of WhatsApp forwards but the humour is mostly situational and above all, the performances are spot on.
"Give this one a watch. That's the least you can do. Or should I say that's the list you can do."
Shubha Shetty-Saha of Mid-Day said: "Here comes a rom-com which refreshingly is targeted at men. The good thing about this film is its contemporariness.
"For one, Vir Das has a heavy responsibility as he is in almost every frame of the film. Unfortunately, he doesn't really live up to that as his performance just seemed like an extension of his stand-up comic act on stage.
"However, for all its today's feel, the climax is jaded and predictable. Watch it. It's light-hearted and quite smart."