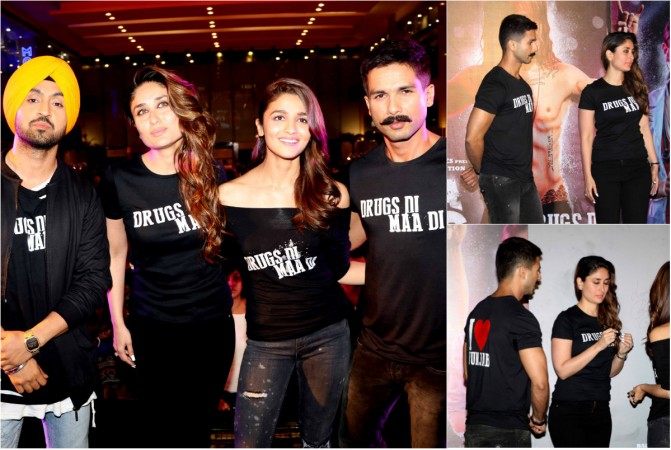 Before the censor board's final verdict, the team of "Udta Punjab" held a special screening for Bollywood celebs. Alia Bhatt, Anurag Kashyap, Vikas Bahl, Masaba Gupta and Abhishek Chaubey watched the movie on June 6.
The recent update on the battle between the makers of Shahid Kapoor-starrer and the Central Board of Film Certification (CBFC) is that the latter has reportedly asked to drop the reference of "Punjab" from the film. Also, it has imposed 89 cuts in the Abhishek Chaubey directorial.
This has created an outrage among fans and several of them have trolled the censor board on Twitter. In fact, Bollywood celebs like Karan Johar, Hansal Mehta, Rajeev Masand, Soha Ali Khan and Shekhar Gupta stood in support of "Udta Punjab" and slammed the board on social media.
However, amidst the entire controversy, celebs attended the screening. Alia, Anurag, Abhishek, Vikramaditya Motwane, Vikas, Masaba and Madhu Mantena were spotted in Bandra, where the screening was held.
Anurag, the producer of the film, has been fighting for "Udta Punjab" censorship issue, while the censor board had earlier hinted that they are under political pressure as Punjab elections will take place early next year.
Anurag expressed his anger on this situation on Twitter as well. "I always wondered what it felt like to live in North Korea .. Ab to plane pakadney ki bhi zaroorat nahin.." he tweeted. He also hinted that a person who is against the release of the film is actually guilty of promoting drugs.
"There is no film more honest than UDTA PUNJAB .. And any person or party opposing it is actually GUILTY of promoting drugs," Anurag tweeted. He further wrote: "I request Congress, AAP and other political parties to stay out of my battle. It's my Rights vs the Censorship. I speak only on my behalf."
Meanwhile, the special screening of the film looks like a ray of hope that the film might not be postponed. Take a look at photos here: