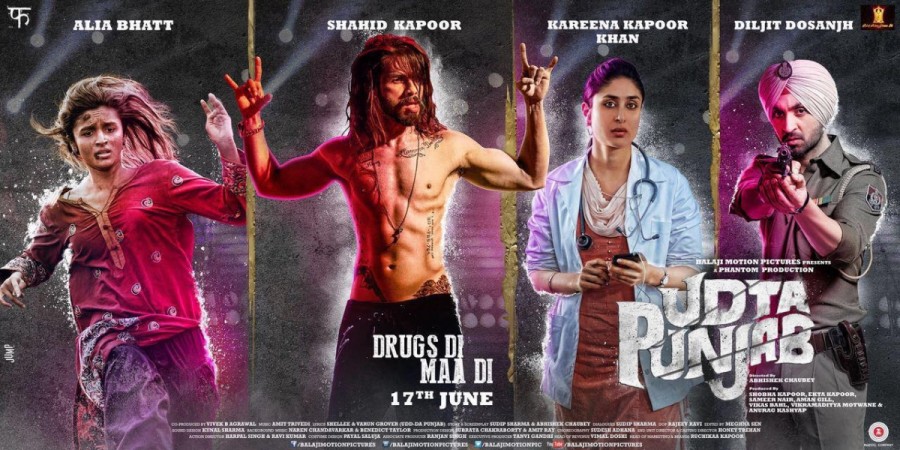 The battle between the makers of Shahid Kapoor starrer "Udta Punjab" and the censor board has taken an ugly turn and it has been reported that the Central Board of Film Certification (CBFC) has asked them to drop the usage of "Punjab" from the film. Several celebrities have slammed the board on social media.
The producer of the film, Anurag Kashyap, has been fighting for "Udta Punjab" censorship issue, while the censor board had earlier hinted that they are under political pressure as Punjab elections will take place early next year. Therefore, releasing the film with the existing content might not be helpful for the political parties, sources close to the censor board said in a statement.
If CBFC wins the battle, then there will be at least 40 cuts in the movie and it will simply take out the essence of the story. Since the controversy of dropping "Punjab" from the title started doing the rounds, the issue garnered immense response from all quarters, especially Twitterati.
In fact, celebrities like Karan Johar, Hansal Mehta and Rajeev Masand have also voiced their support for "Udta Punjab" and have slammed the censor board on social media. Anurag Kashayp also shared his view on Twitter, comparing the situation to North Korea while asking the political parties to stay away from the matter.
Anurag's tweets are as follows:
"I always wondered what it felt like to live in North Korea .. Ab to plane pakadney ki bhi zaroorat nahin.."
"There is no film more honest than UDTA PUNJAB .. And any person or party opposing it is actually GUILTY of promoting drugs."
"I request Congress, AAP and other political parties to stay out of my battle. It's my Rights vs the Censorship. I speak only on my behalf"
"It's my fight Vs a dictatorial man sitting there operating like an oligarch in his constituency of censor board, that's my North Korea"
Amidst all this, Anurag didn't leave a chance to take a dig at Prime Minister Narendra Modi as well.
On the other hand, CBFC member Ashoke Pandit also backed the makers of the film. "I as a filmmaker & a citizen of this country condemn d act of asking the producers 2 remove d word 'Punjab' from the film #UdtaPunjab. #CBFC," he tweeted. "Which means if I have to make a film on my genocide & ethnic cleansing, I can't use the word #Kashmir? A dangerous trend. #UdtaPunjab #CBFC," he further wrote.
Also, take a look at the tweets of Karan Johar, Rajeev Masand and other celebs here: