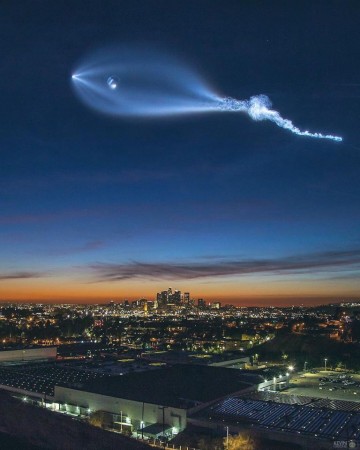 In the midst of gripping football fever in Russia, national media outlets changed their attention from soccer to something ''mysterious'' on Saturday, after an eerie object seemingly a UFO was spotted in the skies. On Sunday night, a huge white object flashed the skies of Russia, and many people thought that an alien invasion was imminent.
The news of the mysterious white object soon went viral, and it literally took the internet by storm. Many people shared the eerie image of the white object on social media platforms, and initially, everyone speculated that aliens have entered mother earth. They even argued that aliens are going to invade earth soon which may cause massive devastation everywhere.
A section of other people claimed that the white object which left a massive trail in the skies could be an indication that Russia has launched its state of the art ICBM Topol-M.
However, alien believers were soon disappointed as it turned out to be a Russian Soyuz 2.1-b rocket which was launched from the Plesetsk test launch site. Some hours after the launch, the carrier rocket's Fregat booster successfully put the Glonass-M navigational satellite into the orbit.
This is not the first time that a rocket launch was misinterpreted as a UFO. Last December, strange lights appeared in the Los Angeles skies and the images of the spectacular sight soon went viral on social media pages.
But soon, the mystery surrounding the UFO lightings was unveiled as the smoke trail left behind by SpaceX's Falcon 9 rocket launch. It made headlines when Elon Musk, the founder of SpaceX sarcastically commented that the white trail spotted in the skies could a nuclear ICBM launched from North Korea.