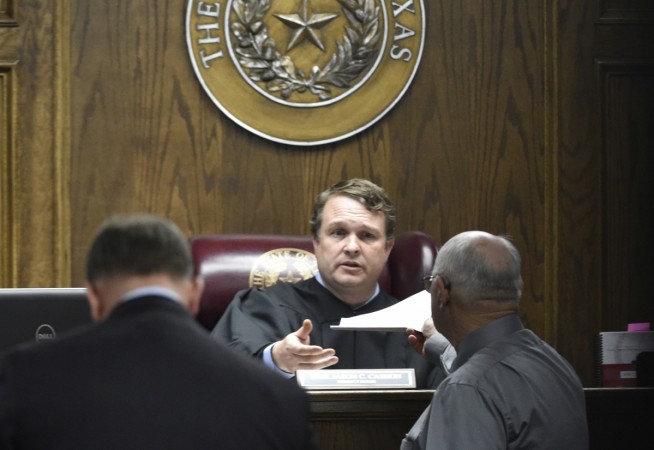 Eddie Ray Routh, the former marine and Iraq war veteran struggling with Post Traumatic Stress Disorder, has been found guilty of the murder of former Navy Seal marksman Chris Kyle and his friend Chad Littlefield. Routh, who shot the "American Sniper" and his friend two years ago, has been sentenced to life in prison after the jury rejected his claims of being legally insane at the time.
The 27-year-old's murder trial has been of widespread interest, partly owing to the Oscar-nominated film "American Sniper", which based on Kyle's memoir about his four Iraq tours. The war veteran had confessed to murdering both the victims soon after he was arrested and all the jury members had to determine if he "intentionally and willingly" killed the pair, and whether he knew what he did was wrong.
The nine-day trial included emotional testimonies from Kyle's wife Taya Kyle and Chad's mother Judy Littlefield, graphic photos from the crime scene, Routh's confession to police and details into his mental troubles after leaving the military, reports The New York Times.
After serving in the Marines, Routh was diagnosed with PTSD and psychosis, with relatives also testifying that he had been suicidal and paranoid in the months before the shooting. He had given puzzling explanations for the dual murder; he reportedly feared Kyle and Littlefield were trying to take his soul. He also said he did not like that Kyle did not shake his hand when they met and the two did not talk to him during the drive to the range.
However, the mental health experts who examined Routh revealed to the jurors that he had not been directly involved in combat in Iraq and that he had lied about putting the bodies of babies in a mass grave in Haiti. Experts who evaluated him for the trial also testified that he was not insane and questioned whether he had exaggerated the trauma he experienced to get disability benefits.
The jury of 10 women and two men took just over two hours to convict Routh, in the murder of 38-year-old Kyle and 35-year-old Littlefield on 2 February, 2013. With the death penalty off the table, judge issued life in prison without parole to Routh just minutes after the verdict was announced.