The American Music Awards 2017 were full of surprises. Like every time in the past, there were soulful performances, backlashes and shady responses that turned into viral memes.
And of course, fashion. From P!nk's strapless crimson with tulle layers to Selena Gomez's debut platinum blonde 'do and leather mini dress – the stars left audience and fans shocked and vowed at the same time.
Also read: American Music Awards 2017: Highlights and how P!nk stole the show
But there were also some major fashion statements that people still can't believe were bought to the red carpet.
Here's a list of every "Can't believe they did that!" fashion moment from the 2017 AMAs.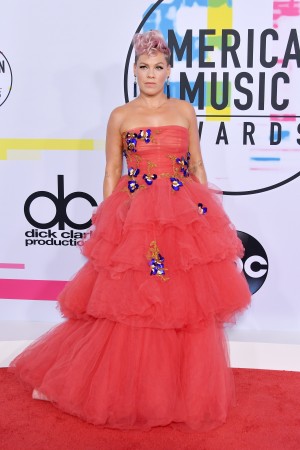 Guess who had her Rihanna moment with in crimsons and layers and adorable little flowers playing over her dress by Monique Lhuillier? That's right, P!nk's performances weren't the only highlight of the show from the Beautiful Trauma singer.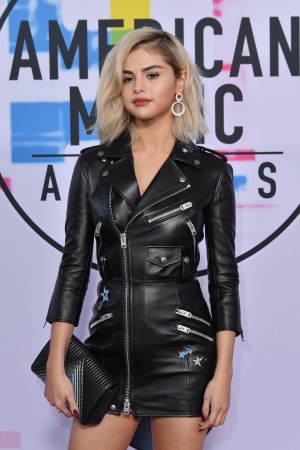 Selena Gomez is back with her problematic ex, Justin Bieber and it showed in the bad girl aesthetic she sported at the AMAs red carpet. A Coach leather mini dress teamed with her brand new platinum blonde hair – this new Selena simply slayed.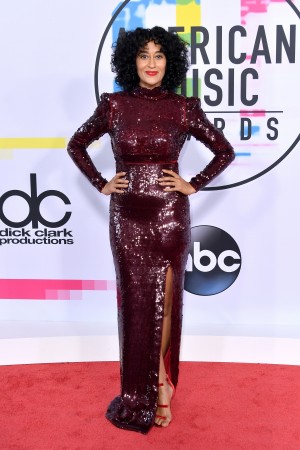 The maroon, sequined Stella McCartney gown was one of the many edgy looks that host Tracee Ellis Ross opted for and to say the least, she pulled off every single one of them.
In a sheer strapless gown by Ester Abner, Demi Lovato could have easily passed off as a Kardashian twin. And the singer was 'Sorry, Not sorry' for that.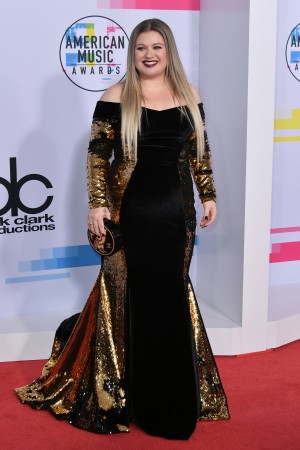 Kelly Clarkson might have overdone the AMAs with her off-the-shoulder black Christian Siriano gown with sequin gold accents, but her performances outdid her ensemble and nobody seemed to be complaining.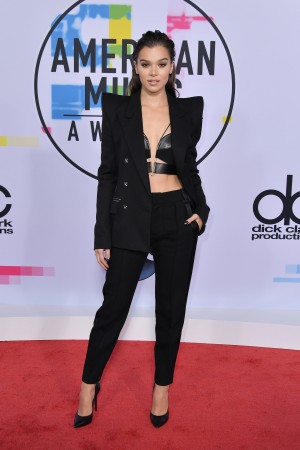 Hailee Steinfield just reinvented the black tuxedo look layering it with a bralette pants by Mugler with Bulgari jewellery and fans couldn't contain their excitement about the budding fashionista.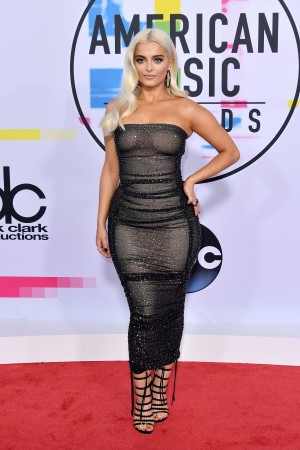 Strapless, sheer black bodycon dress teamed with strappy sandals – Bebe Rexha just proved once again that her own personal style is something nobody could even dream of.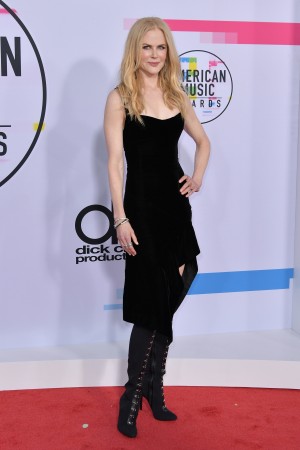 Nicole Kidman in a black Oliver Theyskens dress with over-the-knee boots from Giuseppe Zanotti that makes one go from 'wow' to 'umm' in a matter of seconds. This was a tricky one to decide indeed.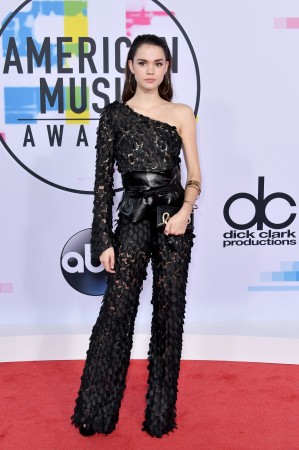 Maia Mitchell brought all the right 70's vibes with this black one-shouldered jumpsuit, but did she overdo it? People are having a hard time deciding this one too.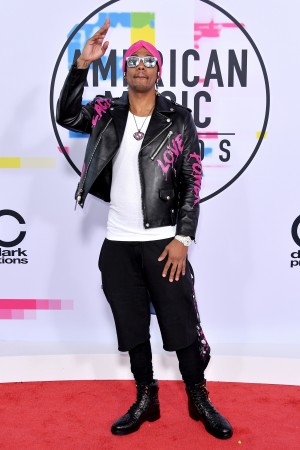 'Nick Cannon Is Too Damn Old to be Dressing Like A Bratz Doll' [sic] is what one of the many shady tweets about him read and well... Yeah.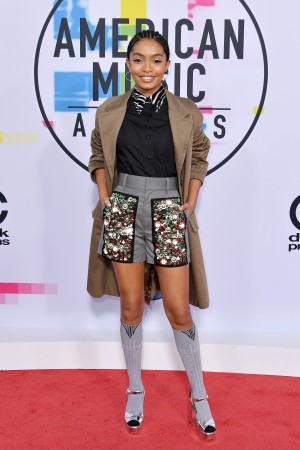 Celebrities usually stick to gowns, but this year the AMAs were a lot about pants. And when it came to Yara Shahidi, she took every chance to defy the girly-girl memo, with shorts, a collared shirt, trench coat, and a pair of gray knee-high socks.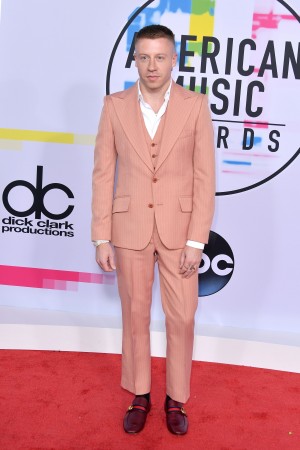 Trust Macklemore to flaunt every last bit of the 2017 millennial peach-pink craze in all its glory.
Julia Michaels gave P!nk a tough competition in who had the best Rihanna moment on the red carpet category, with her fiery red dress reminding us of Rihanna's 2015 gown.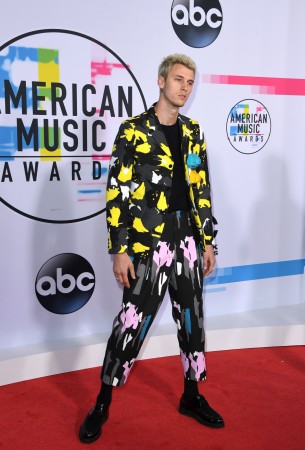 Suits with toy cars on them are probably every young adult's transitional dream and of course, Machine Gun Kelly pulled it off with ease.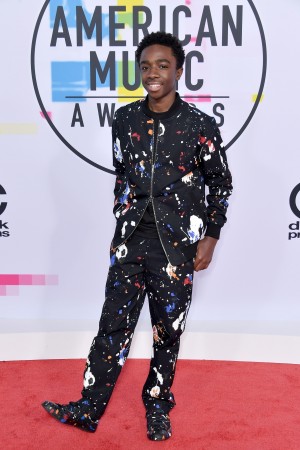 Stranger Things star Caleb Mclaughlin is known for his unique taste so this splattered bomber jacket/suit didn't shock people much.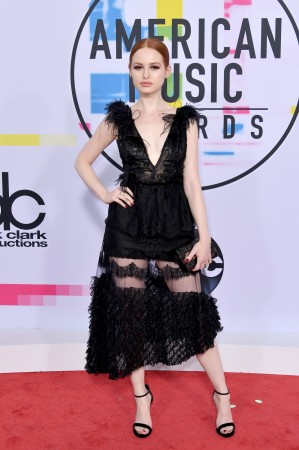 Madelaine Petsch had her classic Cherryl Blossom moment with this midway – half sheer half solid dress thingy making her looks every bit like the unpredictable and layered character she plays on the show Riverdale.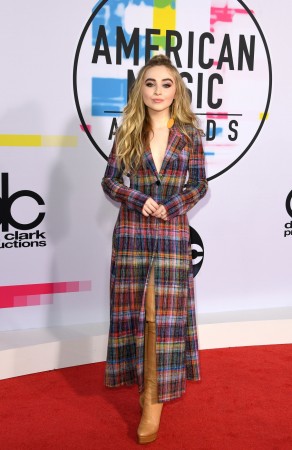 Sabrina Carpenter did the unthinkable. She sported plaid on the red carpet; shouldn't have worked, but it so did.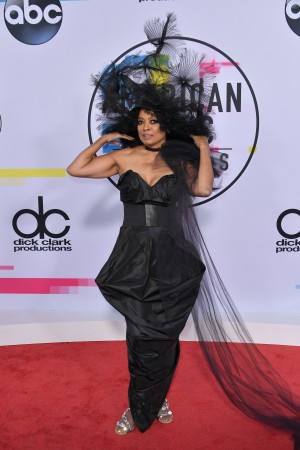 This... Whatever Diana Ross was wearing, that made her look like the iconic legend she is.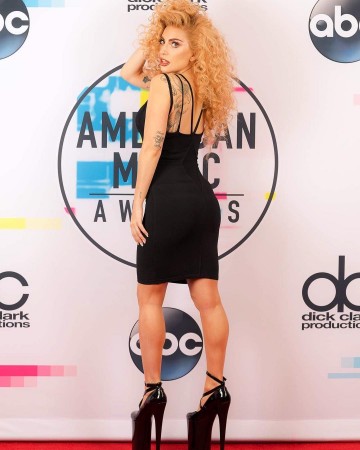 Lady Gaga was so NOT the Mother Monster Gaga she is known to be, as she opted for this black silhouette ensemble, but her heels made up for it.
And finally beauty blogger PatrickStarrr who has her own unmatchable style that nobody except she herself could pull off. Or nah?