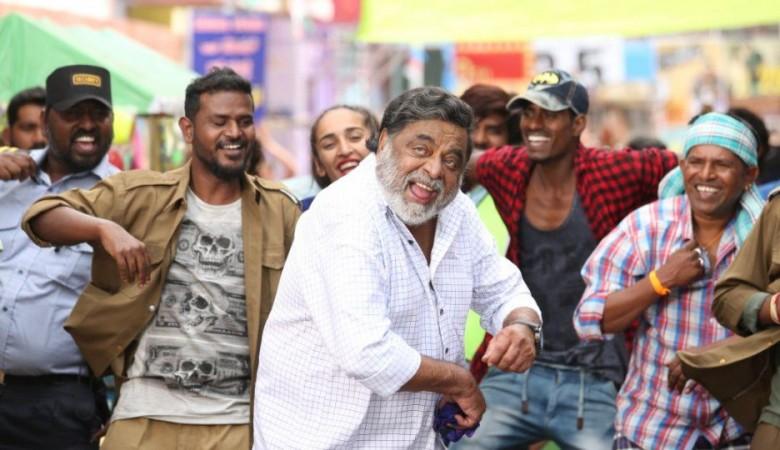 What do ageing elders expect from their children? Love and care. It looks damn simple. Yet we hear and read so many stories of aged parents-children having issues over trivial issues. The foundation for the story of Rebel Star Ambareesh's Ambi Ning Vayassaytho is built on those questions without being judgemental while trying to showcase the present scenario.
A family confesses to DCP played by Rockline Venkatesh about missing Ambi (Ambareesh). The story tells he had a peaceful life with his son and grandchildren, but he somehow brings in trouble to his home. His son doesn't appreciate his father's social concerns. And his workaholic son has lesser time to care for him and Ambi is often pained by his son's outbursts.
At some stage, he realises that he was not living his life for himself, but for his family. So, he decides to do what he likes to do in his life and leaves the house on his Royal Enfield in pursuit of happiness.
The movie tries to present how elders feel when they do not get care and the pain that they go through when they are not giving their due respect. Yet it does not portray the son like a villain. For an instance, the son doesn't oppose his father's decision to work, but shares his unhappiness when his father pokes his nose in the business which has nothing to do with him.
Yet the film showcases Ambi had dealt the issue without hurting his son years ago when his son committed a mistake. So, is Ambi wrong to expect similar kind of treatment now?
The second half of the movie takes us to Ambi's flashback love story with Nandini (Suhasini Mani Ratnam). Sudeep and Sruthi Hariharan appear as junior Ambi and Nandhini. Initially, it appears like this romance might dilute the original story, but as the story progress you cannot help but fall in love with their romance.
Arjun Janya's Mathaado Thareya give magical tough to their love story. And the ending takes the viewers by surprise.
There are no heavy feelings or emotional drama which are usually associated with movies dealing with such subjects. But the major drawback is the father-son scenes look too artificial.
If the first half talks about Ambi's loneliness, the second half is about his romance.
The signs of ageing are visible in Ambareesh, but his unmatchable spirit to act is out there on full display. The role is tailor-made for him. In some scenes, he emotes by displaying just a blank face which tells us the talent he posses. Suhasini is equally good and it is a treat to watch her winsome smile.
Kiccha Sudeep has bid goodbye to his long hairs and moustache. Apart from mannerisms and body language, he has brought out the required innocence of this character to perfection. Sruthi Hariharan looks like a perfect pairing for Kiccha for this subject. Technically, cinematography and music are top notch.
Final thoughts: It is an engaging feel-good entertainer. Don't miss it.