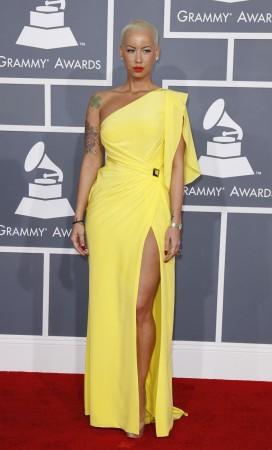 The previous episode of ABC's Dancing with the Stars saw returning judge Julianne Hough apologising to contestant Amber Rose for hurting her feelings while critiquing her past performance.
During a podcast, Rose said she felt Hough was body-shaming her when the judge said she felt uncomfortable watching Rose get her leg lifted by partner Maksim Chmerkovskiy. "I did feel body-shamed," Kanye West's ex confessed on her Loveline podcast. "And for me, and my body, my hips, my ass, my breasts, made her uncomfortable."
Hough later apologised to Rose and the catfight was believed to have ended. But according to a Radar Online source, Rose hasn't forgiven Hough. "Amber is upset because Julianne did not apologise to her privately and it seemed obvious that the only reason she did it on-air was to save face," the source told Radar Online. "Amber is getting a lot of heat from everyone, not just Julianne. But she is not going to tone it down. Instead, she is going to show them all just how sexy she can be!" the source added.
Professional dancer Derek Hough recently came out defending his sister in the body-shaming scandal, saying Julianne was all about body positivity. "I think we all know Julianne and she is a huge advocate for being kind," he explained to ET, adding, "I understand that she felt bummed out, but to say [she] was [body shaming] is definitely just false."
Dancing with the Stars airs Mondays and Tuesdays on ABC.