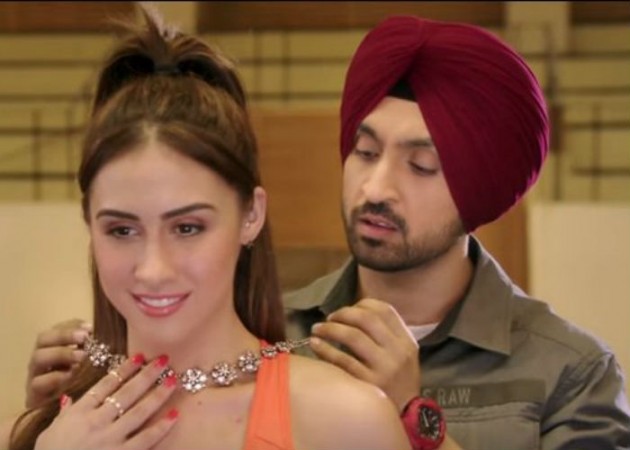 The trailer of Diljit Dosanjh's next Punjabi movie "Ambarsariya", which was released on YouTube Thursday night, has impressed the audience and raised their expectations.
Written by Dheeraj Rattan, "Ambarsariya" is a romantic comedy entertainer. Diljit Dosanjh is playing an insurance agent, who has a record number of sales to his name. He is a mischievous, helpful and friendly neighbourhood youngster. Navneet Kaur Dhillon, Monica Gill and Lauren Gotliebb are in love with him. Diljit's character has another side, which shows him as a man who is fighting for his community and religion.
The trailer shows that "Ambarsariya" is full of love, music and celebrations. Diljit Dosanjh's electrifying-screen presence, perfect comic timing and dialogue diction are going to be the main highlight of the film. As per this video, the movie will be an out-and-out roller coaster ride with lots of smiles, tears, laughs, heartfelt moments and ample thrills.
"Ambarsariya" has been directed by Mandeep Kumar and produced by Tips Films. It is slated to release on March 25, 2016. The makers of the film unleashed its trailer on the official YouTube channel of Tips Films on Feb 18. Within 12 hours of its release, the video has been viewed 290,320 times and received 8,600 thumbs up and 1,600 thumbs down.
The trailer of "Ambarsariya" has garnered 640 comments, most of which are positive response for the video. Many viewers posted the link of the trailer on Twitter and Facebook and shared their views on the trailer. Here are some Twitter comments about the trailer of "Ambarsariya".
Taran Adarsh ‏@taran_adarsh
Comes across as a complete entertainer... Trailer of Punjabi film #Ambarsariya, starring @diljitdosanjh . Enjoy! http://youtu.be/WNwIMS-v1KI
Danny ‏@dannydatta
@LaurenGottlieb @diljitdosanjh #Ambarsariya Trailer was Awesome #25march @LaurenGottlieb you look so pretty ❤ and Diljit Waiting for movie
Amit Swaroop ‏@unleashanimal
@Monica_Gill1 Watched #Ambarsariya trailer,it's out & out a brilliant,Superb.U r luking fresh & stuning.Luking frwd 4 niche acting & movie. #Ambarsariya trailer z fab & superb.Lukng for niche acting & movie drama. @diljitdosanjh @Monica_Gill1 u guys r lukng awesome. Best of luck @Monica_Gill1 Earlier have seen u in MTV top model & now in #Ambarsariya.Ur charisma z growing & so as u.Lukng hawt,fab and superb elegant.
Sabir Arora ‏@sabirarora
With #Ambarsariya Diljit Dosanjh I am sure you gonna create the history. Superbbbbbbbbb @diljitdosanjh Superb Trailer
RheaKM ‏@rheamajithia133
Really good trailer diljit sir, haven't ever watched a punjabi movie but so excited to see this one! @diljitdosanjh #Ambarsariya
Narender Bains ‏@NindaBains
What a ghaint trailer of @diljitdosanjh 's movie #Ambarsariya . Just can't wait to watch the movie. Releasing 25 March.
Gursimran ‏@i_keni
#Ambarsariya amazing trailer!! Best of luck @diljitdosanjh !! It goona be a blockbuster 4sure✌️
Parwinder Singh ‏@iParwinder
A perfect trailer results in perfect audience interest.That's what #Ambarsariya did.. Wishing u best luck @diljitdosanjh.