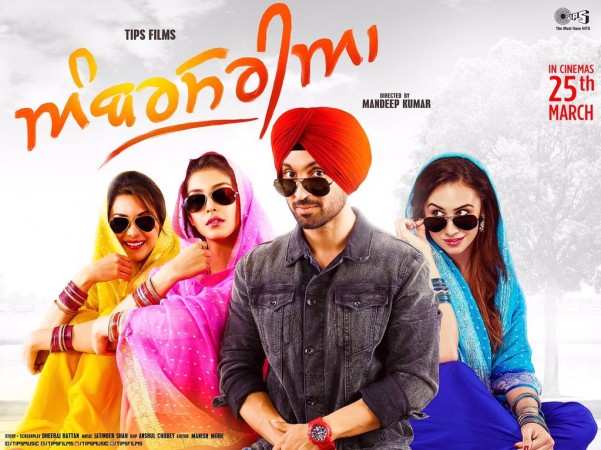 Director Mandeep Kumar's Punjabi movie "Ambarsariya", starring Diljit Dosanjh, Navneet Kaur Dhillon, Monica Gill and Lauren Gotliebb, has received positive reviews from the audience.
"Ambarsariya" is a romantic comedy entertainer, with story and screenplay by Dheeraj Rattan. The movie has been produced by Tips Industries Limited. Jatinder Shah has composed music for the film, while Anshul Chobey and Manish More handled its cinematography and editing, respectively.
"Ambarsariya" is about insurance agent Diljit Singh, who has a record number of sales to his credit. Three girls â€" Jasleen Kaur, Kirat and a photographer (Navneet Kaur Dhillon, Monica Gill and Lauren Gotliebb, respectively) â€" are in love with Diljit and his mischievous, helpful, friendly and humorous nature. On other hand, Diljit is fighting for his community and religion.
The audience say "Ambarsariya" has an interesting story and engaging screenplay, whic is full of love, music and celebration. The movie is a roller-coaster ride with lots of smiles, tears, laughs, heartfelt moments and ample thrills.
Diljit Dosanjh has reportedly delivered a brilliant performance, and his electrifying-screen presence is the highlight of "Ambarsariya." His comic timing and dialogue-delivery are big assets of the film. Navneet Kaur Dhillon, Monica Gill and Lauren Gotliebb have also reportedly done justice to their roles, and their performances and glamour are among the big attractions of the movie.
Some viewers took to Twitter to share their response after watching the film. We bring you some unique comments. Here is the live update of the "Ambarsariya" movie review by audience:
Karan Sharma ‏@karansh42
@diljitdosanjh awsome movie veere.......apne dum te movie chalana ta koi tere to sikhhee kya baat hai #Ambarsariya what a suspense.!!buraaa
Narinder Singh ‏@NarinderSinghJB
#Ambarsariya Awsm movie, great acting, a must watch, m lvng it... #Ambarsariya Good movie, ghaint acting and a must watch. Good comeback @diljitdosanjh
Manjot Ambarsariya ‏@Manjotkahlon
Awesome movie #Ambarsariya Full of suspense nd fully entertainment package Must watch
Gurwinder SEKHON ‏@gurwinder748
@diljitdosanjh u made a great movie n done a great job bai record tan tuttan gee #Ambarsariya chakkkklooooo
Amandeep ‏@amandeep12b
@diljitdosanjh veera Ni sir sister chalo koi na #AMBARSARIYA rocksssssss ....excited to watch it again with my family now..
Girish mehndiratta ‏@girish_rox
#ambarsariya awesome movie @diljitdosanjh
Diljit ‏@Rashpaldosanjh
Watching the first show of #Ambarsariya Full suspense,Brilliant story,Sirra to vi sirra acting @diljitdosanjh #BestMovie
Eshan Jindal ‏@whojindaleshan
@diljitdosanjh Paji Siraa Hi Lataeje.. Must Watch Movie :) Best Performance so far. 1st day 1st show. Satshriakal
Adoreble Paige ‏@realshubhamcool
Watching #Ambarsariya at PvrJalandhar with friends Every time hearing sound of laughs from everywhere @diljitdosanjh @LaurenGottlieb rocks