Abhishek Gowda, son of Rebel Star Ambaresh and actress Sumalatha, is making his acting debut in Sandalwood with Amar. Nagashekhar of Mynaa fame is directing the movie. It was formally launched with a pooja on Monday, May 28.
The makers wanted to launch the movie on Ambareesh's 66th birthday, i.e. on Tuesday, May 29, but as Tuesday is considered inauspicious, the movie was launched a day before the Rebel Star's birthday.
Tanya Hope is the female lead in Abhishek Gowda's debut film.
Rumours suggested that the title of the movie will be Jaleela, the name of Ambareesh's character in his first movie Nagarahaavu. But Abhishek stated that the said title was never in consideration.
"It is all media creation. We only considered after we read about the rumours from the media. According to me, Amar is the perfect name for this film," he told a Kannada news channel.
The budding actor says Amar is a beautiful romantic movie. "It is aimed at all section of viewers. The movie will be liked by multiplex cine-goers as well as the mass audience. Although it is a love story, people can expect all the necessary commercial ingredients in the film," he adds.
The actor considers his father Ambareesh as his role model and dreams to do a role like Kanwar Lal from Ambi's classic Antha.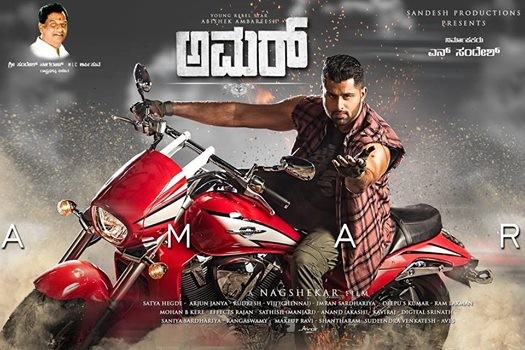 Many stars from Sandalwood have welcomed him to the industry. Notably, Kiccha Sudeep wished the young actor on Twitter. "Write ur own Chapter,,, Take ur own steps.... Head in the direction u wanna go ,, Make ur own kingdom,, Be the Ruler u wanna be. Best wshs always Abhi. Rise&Shine. @sumalathaA. [sic]" he posted.
Prajwal Devaraj tweeted: "Congratulations little brother!! Fly high reach the sky and steal hearts!! Welcome to sandalwood!! [sic]"
Vishnu Manchu: Wishing the best to my brother 'Rebel Star' Abishek Ambareesh on his debut movie puja. God Speed my brother! @sumalathaA aunty, Congratulations!
On behalf of #Ambareesh & #AbishekAmbareesh & team of #Amar Thanking each and everyone of U for all the warm wishes and blessings pic.twitter.com/TzWFIEzsjC

— sumalatha ambareesh (@sumalathaA) May 28, 2018
Danish Sait: Amaze! Please welcome this man on my behalf too. He's an incredible boy! @sumalathaA congrats proud mother