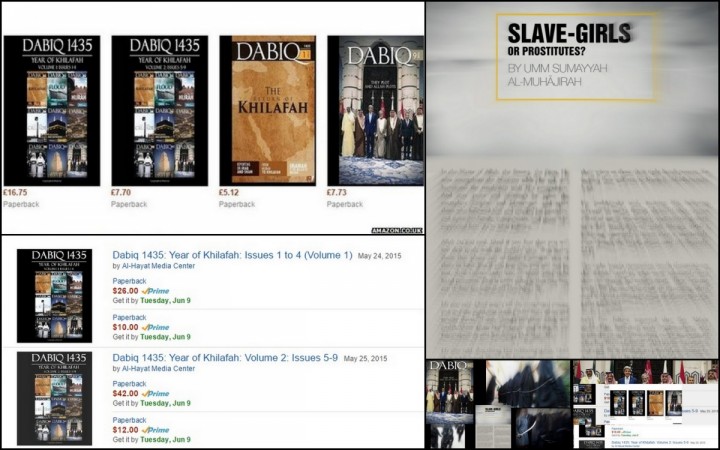 American e-commerce company Amazon has finally stopped selling the Islamic State's (Isis) propaganda magazine Dabiq two weeks after it mysteriously appeared on its website for sale.
Copies of Dabiq, the terror group's official publication released online, were sold on Amazon sites in the US, France, Germany, Italy and Spain for the last two weeks, Daily Mail UK reported. On Saturday, finally the Seattle-based e-commerce giant decided to withdraw it from sale.
Isis is considered a terrorist group in most of the countries. Israel National News, on the other hand, pointed out that Amazon might have sold thousands of copies of the Dabiq across Europe in the last two weeks.
Amazon now has told BBC that it has removed the terror group's publication from its websites. The Dabiq magazine, in which the ISIS justified the beheading of foreign nationals and rape of Yazidi sex slave girls, was being sold for $10 in the United States, while in the United Kingdom it was priced at £27.
Amazon was also giving buyers the option of gift wrapping the terrorist organisation's propaganda magazine. The Isis is listed as a terrorist group by 14 countries, besides the United Nations and the European Union.
The online retailer, however, does not explain on how the Isis managed to put up its propaganda magazine on Amazon's website, which listed Al Hayat Medi Centre -- the English media wing of Isis -- as the author. Its seller was CreateSpace Independent Publishing Platform, an Amazon company which allows people to create, publish and distribute books for free.
Before finally Amazon decided to take the terror group's magazine off it shelves, many users used the 'Customer Reviews' section of the listings pages to express their outrage.
One Amazon user wrote: "Islamic State propaganda??? This is better to use as toilet paper..."
Another simply posted rather sarcastically: "Seriously?!!"
The name of the magazine - Dabiq - is taken from a Syrian town which, as per the Islamic mythology, will be the final battle ground during the Apocalypse.