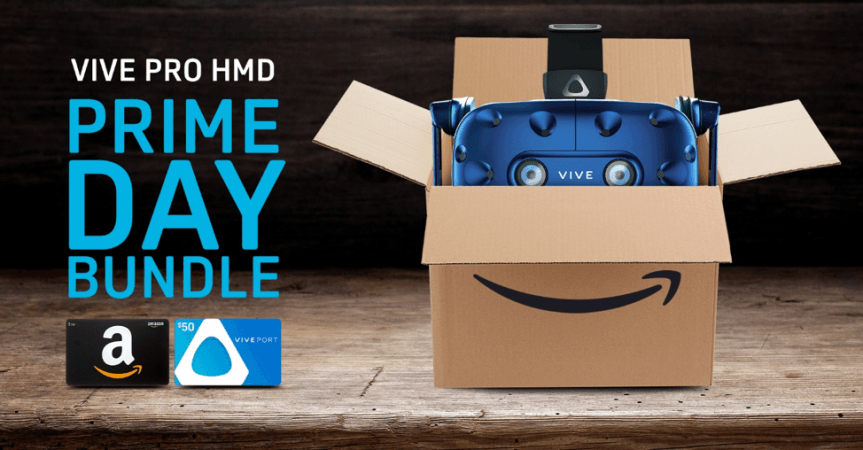 Amazon Prime Day was opened officially at 3 p.m. ET today and the 36-hour sale features more than 1 million deals. It ends Wednesday at 2:59 a.m. ET. However, complaints are already pouring in that the Amazon's site is experiencing slow or several performance issues due to heavy rush.
Otherwise, all Amazon Prime members who purchase a Vive Pro HMD will receive a $50 Amazon gift card and a $50 Viveport gift card, on top of two months of Viveport subscription free.
Viveport has partnered with Amazon so its users can get the most out of Amazon Prime Day sale. With $100 gift card, you surely have enough freebies to get from Amazon.
Here are a few suggested special deals to take full advantage of your Amazon and Vive gift cards on Prime Day:
3-month subscription bundle ($19.99) + Moss ($29.99)
Viveport has over 470 titles to choose from. With this three-month subscription bundle, you can choose five titles each month for three months. That should be enough to give you a robust VR content library.
A great add-on to this bundle is AMoss, a single-player action-adventure puzzle game for VR. At the center of the game is Quill, a young mouse always ready to take on to forgotten realms to solve challenging puzzles and battle menacing enemies.
The Gallery: Episode 1 ($19.99) + The Gallery: Episode 2 ($29.99)
The Gallery has been a popular episodic adventure game inspired by 80s fantasy movies. The Episode 1: Call of the Starseed and Episode 2: Heart of the Emberstone are your first steps to this addictive series.
Lighthouse stands ($49.95)
Tripods are the best accessory to keep your Vive set-up portable and organized. Avoid drilling holes on the wall as this Fovitec lighthouse stand will get it done.
Rebuff TrackStrap ($39.99)
To achieve a maximum precision of full-body tracking with Vive Tracker, the Rebuff TrackStrap is the right fit. It's combined with two Vive Trackers and is perfect for titles like Final Soccer VR and Island 359.
HTC Vive Tracker ($99.99)
Use your $50 Amazon gift card and get the HTC Vive Tracker for the half its price. You can use this accessory so you can play supported games using real-world objects.