After launching a slew of consumer devices like the Amazon Echo range of smart speakers in India, Amazon.com has on Wednesday introduced an all-new waterproof Kindle ebook reader called the Amazon Kindle Oasis and it is already up for pre-orders in India.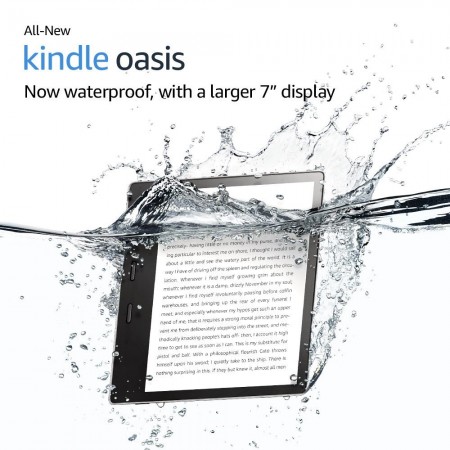 The all-new Amazon Kindle Oasis is the upgraded version of the Amazon Kindle Oasis and comes with a brighter 7-inch glare-free display with 60 percent more LEDs than the Kindle Voyage and Kindle Paperwhite and a high resolution 300 ppi (pixels per inch) display. The new Kindle Oasis also comes with the best battery life on a Kindle e-book till date, which lasts for six-weeks or roughly about a month and a half.
In terms of waterproofing, the Amazon Kindle Oasis is IPX8 rated, which means that it can withstand immersion in over 1-meter of water. Waterproofing has long been an omission on Kindle e-readers, but the Kindle Oasis will now let people read at the beach or in the bath tub without worrying about damage, Amazon said.
Apart from being the company's first waterproof Kindle e-reader, the Kindle Oasis is also Amazon's thinnest and lightest Kindle e-reader ever. It is 20 percent lighter and 30 percent thinner than previous versions. The Kindle Oasis has a tapered design which is just 3.4mm thick at its slimmest point.
The new Kindle device also comes with Bluetooth and integrates with Amazon's Audible service for streaming audio books to wireless headphones or speakers. Amazon also unveiled a range of new covers for the new Kindle Oasis, which can transform into a stand. The water-proof fabric covers are priced at Rs. 2,999 on Amazon.in and come in three colours – Charcoal, Indigo and Sandstone. There are premium-looking leather covers too that are priced at Rs. 3,999 and they come in Black and Merlot (wine red) colours.
Amazon currently offers a 4G model for the cellular variant in the US, but in India the company will be offering a Wi-Fi + free 3G model. However, the "free 3G" connectivity will be offered via Amazon Whispernet free of cost. Amazon has partnered with Vodafone to offer the free 3G connectivity in India, but says that the service will be available in "more than 100 countries and territories."
The e-reader is currently up for pre-order on Amazon.in and will start shipping from November 13. The new Kindle Oasis is priced at Rs. 21,999 for the Wifi-only 8GB model and Rs. 28,999 for the 32GB model that comes with WiFi + free 3G.