Yesterday, Google launched some exciting products alongside the Pixel 2 and Pixel 2 XL smartphones. It announced the Pixelbook laptop (along with the Pixel Pen), a camera mod that attaches to your smartphone called Google Clip, an updated Daydream VR headset, and Google's first wireless earphones called Pixel Buds. Google also announced a new affordable version of its smart home speaker called Google Home Mini to compete with Amazon Echo Dot.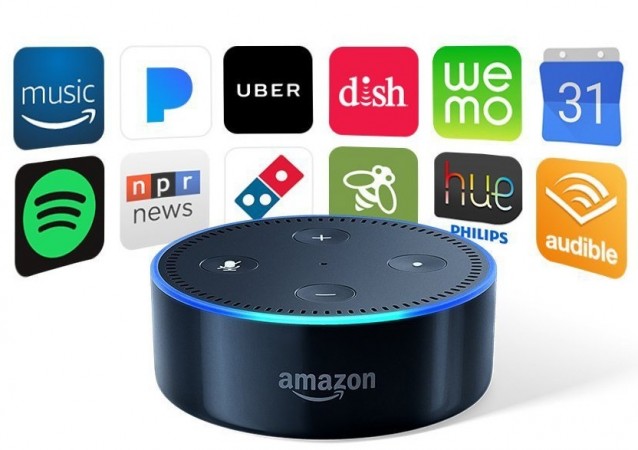 As the name suggests, Google Home Mini is the smaller version of Google Home hands-free, voice-controlled smart speaker. The same holds true for the Amazon Echo Dot, which is the smallest among Amazon's smart speakers line-up while also includes the Amazon Echo and the bigger Amazon Echo Plus.
Amazon Echo Dot vs Google Home Mini: Design
Both, the Google Home Mini and Amazon Echo Dot look similar in terms of design and are designed for smaller spaces. Their compact form factor means that they could be kept almost anywhere, for example your bedside table. Looks like it won't be long that we'll have smart speakers replace our trusty bedside alarm clocks.
Amazon Echo Dot employs a more industrial design which is almost like a sliced Amazon Echo complete with top-mounted audio-control buttons and LED band. Google Home Mini on the other hand looks more like a speaker with the mesh top and only one button along the side. Amazon Echo Dot's industrial design makes it look more like an alien spaceship (not to mention the glowing LED band). Google Home Mini looks simpler and the fact that it will come in funky colours will make it a great household accessory, something that compliments the interiors.
But the main difference is the different AI assistants both these smart speakers employ.
AI Assistants: Google Assistant vs Amazon Alexa
Both the smart speakers employ different AI assistants. With the Google Home Mini you invoke Google Assistant by saying "OK Google" and you are greeted by the Google Assistant with a "Hi, how can I help you?" or a similar reply.
Whereas with Amazon Echo Dot, you just ask Alexa a question, such as "Alexa, what time is it now?" and Alexa would answer to that. And that's not all, Alexa gets smarter with every use, the more you use it, the more it adapts to your speech patterns and vocabulary.
While in the US, you could order groceries and household items by asking Alexa to place the order, Google Assistant has more functionality across devices. Rest assured, you can control your room's lighting (if you have smart lighting in your room), ask Google Assistant or Alexa to make a to-do list, or set up reminders.
Now, both these assistants are smart enough to reply to almost every command you throw at them, but there are some cases where they both lack. Both Google and Amazon have been working constantly to improve their AI assistants and make them more functional across devices. The choice of a virtual assistant is purely a matter of personal choice and it is perhaps the biggest factor that will encourage you to buy a smart speaker.
Amazon Echo Dot vs Google Home Mini: Price and availability
Amazon Echo Dot is currently available exclusively by invitation only on Amazon.in for Rs 4,499. All you need to do is request an invitation and if you will receive an email if you get invited, following which you can purchase the Amazon Echo Dot. Amazon is also bundling a one-year Amazon Prime Membership along with the speaker. Plus, if you are lucky, you can get up to 30 percent discount at checkout. Amazon Echo Dot comes in two colours, White and Black.
Google Home Mini is not yet available in India, however it is currently up for pre-order for in the US for $ 49 and will start shipping from October 19. The $ 49 price-tag (which translates to around Rs 3,200 approx) makes it a worthy challenger to the Amazon Echo Dot when it comes to India.
So which one should you buy?
Smart speakers are fairly new devices, but they are catching up really fast and with the likes of Amazon Echo Dot and Google Home Mini which fall under the Rs 5,000 smart devices category, more and more people will actually want to own one.
Amazon Echo Dot is currently available in India and Amazon.in is offering many add-on offers which make it a good deal over-all for curious first-time buyers who want to experience the technology first-hand. But if you are not too keen on experimenting, save that money for the Google Home Mini.