Abu Ismail, the top Lashkar-e-Taiba (LeT) commander who was the mastermind of the terrorist attack on Amarnath Yatra pilgrims earlier this year, was shot dead by security forces in the Nowgam village of the Anantnag district in Jammu and Kashmir on Thursday.
Amarnath Yatra: Intel report points at possible terrorist attack on pilgrims
Ismail was gunned down along with another LeT operative during a search operation to flush out terrorists from the area.
At least seven Amarnath Yatra pilgrims were killed and 15 others were injured after terrorists attacked a bus in the Batengoo area of Jammu and Kashmir's Anantnag district on July 10. The terrorists had also attacked a police party in the district, injuring three policemen.
Huge achievement for J&K police
"LeT terrorist Abu Ismail of Pakistan along with his accomplice killed in Nowgam. Huge achievement for police and SF (security forces)," said a Jammu and Kashmir Police officer.
"Bodies of both the terrorists have been recovered. And Ismail's associate is identified as Chotta Qasim. He is also a Pakistan resident," the official added.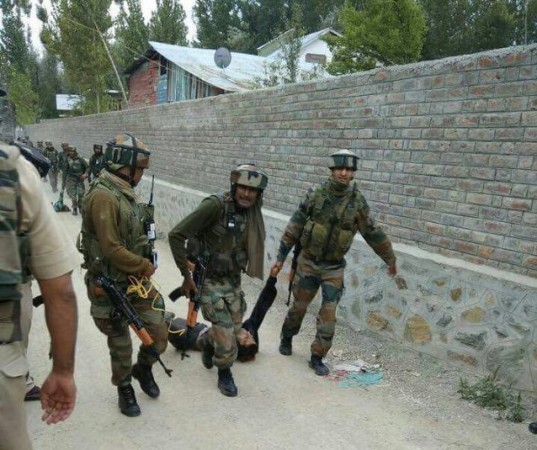 The IGP of Kashmir has also hailed the security services on the killing of Ismail, who was one of the most-wanted militants in Kashmir.
"The Jammu and Kashmir Police was after him since Amarnath attack took place. He was also involved in several other attacks," said DGP of Kashmir SP Vaid.
The Jammu and Kashmit police also congratulated the CRPF jawans, the police and the Rashtriya Rifles for their success and even thanked the people of the valley for their prayers.
Besides informing that the security forces recovered two AK 47 rifles, the police also informed that there was no colateral damage.
BS Raju, GOC of the Victor Force has said the operation was significant as it would leave a vacuum in the top leadership of LeT. The forces could sieze the oppurtunity to nab the other militants as well.
"Militant leadership has to be eliminated because they also misguide our children and lure them into this," said Muneer Khan, IGP of Kashmir.
Meanwhile, 4G internet service has been blocked in Srinagar.
The police launched a massive manhunt for Ismail on July 12 after the attack on the pilgrims and sounded a high alert in the Valley.
In early September, the J&K Police arrested three people -- Bilal Ahmed Reshi, Aizaj Wagey and Zahoor Ahmed -- for allegedly helping the LeT ambush on the Amarnath pilgrims.