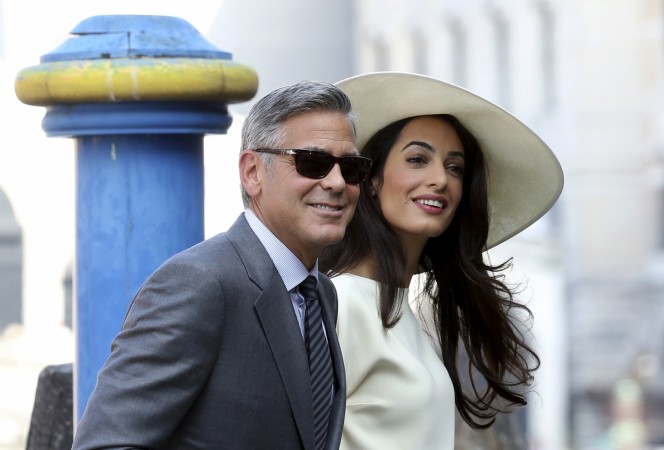 Hollywood actor George Clooney's wife and human rights lawyer Amal Clooney has revealed how her efforts to expose flaws in Egypt's judicial system could have landed her in jail.
The 36-year-old lawyer, who got married to the "Descendants" actor last September, said that she and her team tried to highlight serious flaws in the country's judicial system. It proved prescient, as the flaws contributed to the conviction of three Al Jazeera journalists later.
Amal represented one of the journalists.
The gorgeous barrister spoke to The Guardian about the trial that punished the journalists, recalling that she wrote a report about the flaws in February 2014.
"When I went to launch the report, first of all they stopped us from doing it in Cairo," she revealed after the journalists' appeal hearing this week. "They said: 'Does the report criticize the army, the judiciary, or the government?' We said: 'Well, yes.' They said: 'Well then, you're risking arrest,'" Ace Showbiz reports.
The report was compiled on behalf of the International Bar Association that slammed the Egyptian judicial system of not being independent enough.
The report further stressed that Ministry of Justice officials had wide powers over the nominally independent judges and that the government could exert control over state prosecutors.
Amal and her team put forth the suggestion that the practice of Egyptian officials handpicking judges for some politically-linked cases should be stopped.
"That recommendation wasn't followed, and we've seen the results of that in this particular case where you had a handpicked panel led by a judge who is known for dispensing brutal verdicts. And this one was no different," said Amal.
Last June, controversial Egyptian judge Mohamed Nagy Shehata sentenced the three journalists to imprisonment ranging from seven and 10 years in prison. On their appeal on New Year's Day, a new judge ordered retrial after admitting that there were problems in the initial trial process.
But Amal says that the flaws that have been highlighted in the report might prevent the journalists from receiving a fair trial. "If the idea is: well, there were errors and now there's going to be a retrial, but then the retrial operates on the same basis as the original one, that doesn't really mean much. I don't see how the prosecution can proceed again in a trial process even if the judges were to be constituted properly this time around. I don't see how they could fix the lack of evidence."
She added, "Unfortunately we have to conclude that we can't rely on these Egyptian court processes to achieve a fair or swift result."