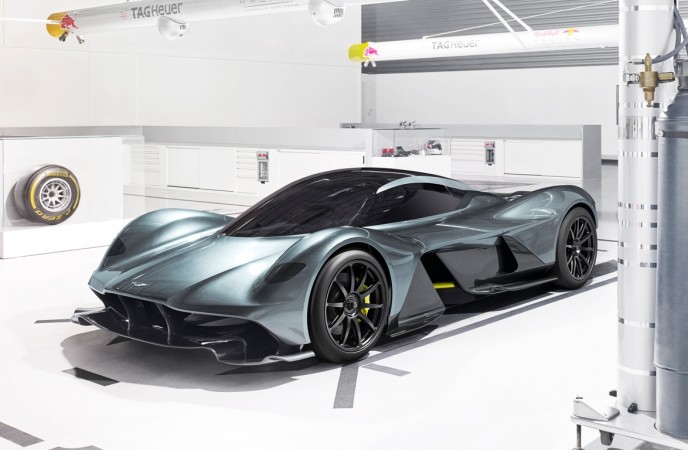 British luxury car-maker Aston Martin tied up with the Formula One team Red Bull Racing to develop a hypercar in March this year and the duo has revealed the offspring, the AM-RB 001(codename), on Tuesday.
Aston Martin plans to build between 99 and 150 road-going examples and 25 track-only versions of the AM-RB 001. The hypercar is the brainchild of Adrian Newey, Red Bull Racing's Chief Technical Officer, Marek Reichman, Aston Martin EVP and Chief Creative Officer, and David King, VP and Chief Special Operations Officer. Built on a lightweight carbon fibre structure, AM-RB 001's design stress on aerodynamics that aids in increased downforce. Much of this downforce is generated through underfloor aerodynamics designed by Newey that left Reichman free to craft a body structure that expresses unmistakable design elements of Aston Martin.
The hypercar will be built by David King and crew at Gaydon, in the purpose-built facility created for Aston Martin's original hypercar, the One-77. The company has confirmed the AM-RB 001 will be powered by a mid-mounted, high-revving, naturally aspirated V12 engine with the potency to attain a 1:1 power-to-weight ratio. More details of the AM-RB 001's technical specifications are reserved for later. Deliveries of the hyper car will begin from 2018.
"To have Aston Martin working alongside Adrian Newey, Red Bull Racing and the invaluable assistance of project partner AF Racing AG is an extraordinary creative collaboration. One that unites the very best of road and race car thinking. As the project gathers pace its clear the end result will be a truly history-making hypercar that sets incredible new benchmarks for packaging, efficiency and performance and an achievement that elevates Aston Martin to the very highest level," said Dr Andy Palmer, President and CEO of Aston Martin, in a statement.