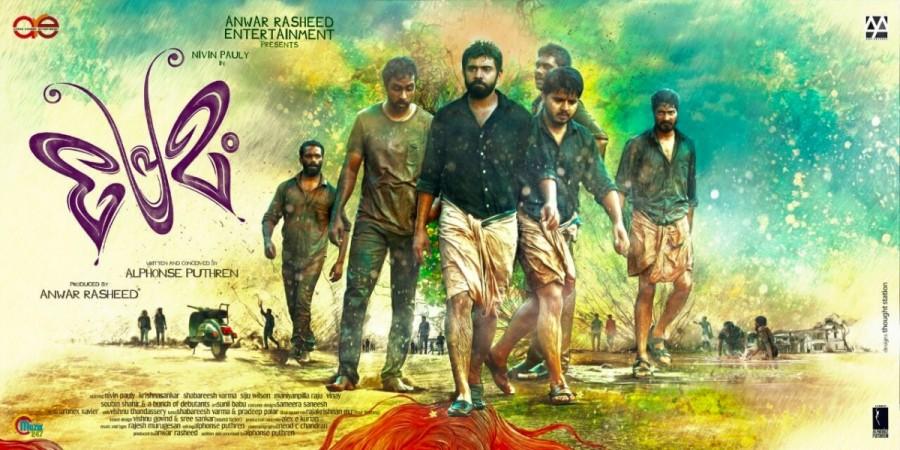 Alphonse Puthren's blockbuster movie "Premam" won many accolades and became the most popular Malayalam movie of the year, but the film failed to grab the prestigious Kerala State Film Award in any category as the jury chairman said the filmmaker had taken a lazy attitude for the filming of the movie.
Now, the film's director has finally responded to the claims made by jury chairman Mohan, who claimed that the Nivin Pauly starrer couldn't match up to the standards of the State Awards as its making was not perfect.
Read: B Unnikrishnan's reaction to Alphonse Puthren's reply to Mohan
Also read: Here's why 'Premam' couldn't bag any Kerala State Film Awards
"Structure is man made. When I have to tell about a feeling that is "love" ..love is not a feeling alone... it is a creator of feelings. It can help you see magic and miracles and it can make you feel deep black darkness too. So I was taking a film in which i was officially comparing a butterfly to love (sic)," Alphonse posted Thursday on his Facebook page.
The director also gives an explanation on how he structured the character of George (played by Nivin) like a "butterfly." "The birth of George - The George in his caterpillar stage. The George in his pupa stage (chrysalis) and the final butterfly stage. The darkness is the transformation of each stage sir. I thought this was the structure of the film sir (sic)," Alphonse explained.
Alphonse also says that he makes films for the "love of cinema and for freedom and hope," and added that he is satisfied with the response the movie got from the audience even though the awards committee couldn't enjoy it. The movie completed 151 days in Kerala and enjoyed a record 300 days of theatrical run in Tamil Nadu, where it was re-released following the request of the Tamil audience.
"I'm not a wanna be filmmaker who thinks that I shouldn't do this or that because the award committee won't like it. I don't play safe. I'll break some rules. I'm replying because you degraded my film, my work and my fellow people with your ignorance sir. I was really sad and was depressed for a month because of your comment about my creation. I'm reacting after a month because my ignorance shouldn't make you feel that you are correct (sic)," Alphonse added.
Meanwhile, the superhit movie, starring Sai Pallavi, Madonna Sebastian, Anupama Parameshwaran in the lead roles, will be premiered on Malayalam television as Vishu treat on Asianet and Kairali channels at 7 p.m. Thursday.
Read the full Facebook post of Alphonse Puthren here:
Senior film-maker Mohan stands unfazed even as bitter barbs are being thrown at him for ignoring the blockbuster Premam from this year's State film awards.

As jury chairman, he feels that cinema, like novels, short stories and poems, should have a certain form and structure and Premam lacked it completely.

"Or else how could someone relate to a film, where a major portion of the first half revolves around a few rudderless youth trying to woo a girl, with only her father opposing it. Premam 's first half seems to have been made in haste. It had no clarity at all. I had great respect for the director after watching his earlier movie Neram ," he told The Hindu on Friday.

My reply to Mohan sir :

Structure is man made. When I have to tell about a feeling that is "love" ..love is not a feeling alone... it is a creator of feelings. It can help you see magic and miracles and it can make you feel deep black darkness too. So I was taking a film in which i was officialy comparing a butterfly to love. Now sir...when you judge a butterfly with man made structures...I couldn't relate to steady shots and logic. Because however you try to watch the butterfly you won't be able to find logic in its movement. So my shots and making might have been logic less. So forgive me for breaking the norms and structure of filmmaking for my small film.

The birth of George
The George in his caterpillar stage
The George in his pupa stage (chrysalis)
and
the final butterfly stage .

The darkness is the transformation of each stage sir.

I thought this was the structure of the film sir.

Thanks that you didn't give any award for me or anyone in the film because you didn't find any structure in it. It is not for Interval and Climax..... I do films for the love of cinema and love for freedom and hope. And my film gets complete even after the end credits. In a film about love(Premam) I would let the hero run behind the heroine till the end of the film because its about love and because it was not about Politics. My film was received by the audience in Kerala with 151 days and 259 days in Tamil nadu and it was re released later too. I'm the audience and I do films that entertain me and I'm not a wanna be filmmaker who thinks that I shouldn't do this or that because the award comittee won't like it. I don't play safe. I'll break some rules. I'm replying because you degraded my film, my work and my fellow people with your ignorance sir. I was really sad and was depressed for a month because of your comment about my creation. I'm reacting after a month because my ignorance shouldn't make you feel that you are correct. Everyone has a perspective. So be open to every perspective.

*Please avoid me from awards next time too if this is the criteria.

Please make more movies like "Pakshe" sir. I as an audience would love to watch it. Wasn't pakshe about lost love ?
Thank you Mohan sir and happy vishu sir