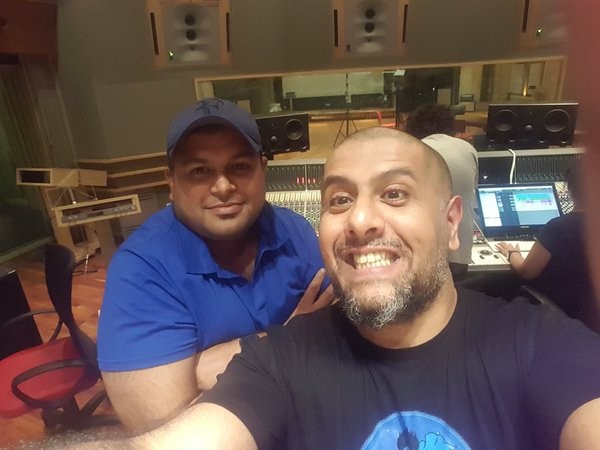 Bollywood music composer Vishal Dadlani is thrilled to make his singing debut in Tollywood. He has crooned his first Telugu song for Stylish Star Allu Arjun's upcoming movie "Sarainodu" (also spelled as Sarrainodu).
Sonu Nigam, Shreya Ghoshal, Kailash Kher, Kunal Ganjawala, Baba Sehgal, Adnan Sami and several other Bollywood singers have already made their debut in Telugu movies and won accolades from audience. Vishal Dadlani is the latest to join the bandwagon. Soon after he recorded his first Tamil song in 2013, it was rumoured he would make his debut in Telugu too, but it just turned to be speculation.
On March 10, Vishal Dadlani visited Hyderabad to record his first Telugu song, which has been composed by Thaman Shivakumar. Later, he tweeted a photo featuring him with the musician at the recording studio. He also wrote, "With the brilliant @MusicThaman , recorded an absolutely awesome track for #Sarrainodu ! My first in Telugu! Woot!"
The song is said to be a peppy number and its music video will feature actress Anjali shaking her legs on the tunes of S Thaman. Lahari Music has reportedly bought the music rights of "Sarainodu." The bosses of the music label tweeted, "@VishalDadlani welcome to Telugu Film Industry @MusicThaman"
Born and brought up in Mumbai, Vishal Dadlani speaks English, Hindi, Urdu and Marathi. He has also studied French and Japanese. He has sung many songs in Hindi, English, Sindhi, Tamil, Marathi, Bengali and Punjabi. He has also crooned music for Hindi, English and Marathi movies. It remains to be seen how his first Telugu song will be received by the music lovers.