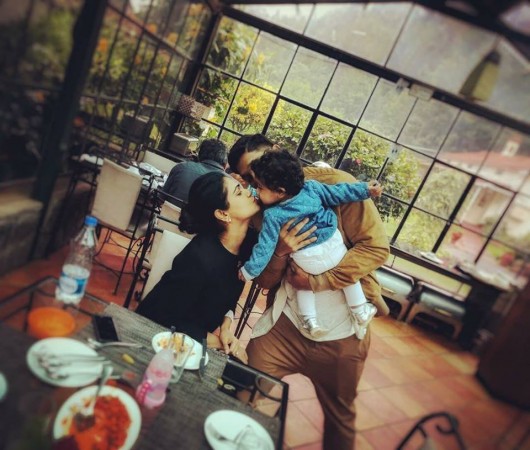 Stylish star Allu Arjun, who made his debut on Instagram on Monday, has released his daughter Allu Arha's picture as his first post and wished happy birthday to the little angel, who turns 1 today.
After making his debut on Instagram on Monday, Allu Arjun took to his Twitter to inform his followers about the same. Besides posting the link to his page, he wrote: "I love to capture moments that become a memory. Starting my journey of Pictures on Instagram with a memorable one on 21st Nov."
Many of Allu Arjun's followers were left with surprise as to know what was so special about November 21. IBTimes India was the first one to unravel the mystery about this date. We had revealed that this date happens to be the first birthday of his daughter Arha and his first post would be her picture.
As predicted by us, Allu Arjun took to his Instagram account this morning and posted the picture of Arha this morning. The Duvvada Jagannadham actor also wrote: "Allu Arjun Happy Birthday to my Lil Angel Arha! Can't believe it's One year already. Muah! #happybirthday #arha #1stbday #alluprincess #1stpost."
The social media platforms like Twitter and Facebook are flooded with the birthday wishes for Allu Arjun's daughter Arha.
Yadhukrisz007 replied to his post: "And there goes the 1st post of our #bunny's #angel #Arha❤ !! Happiest of birthdayz allu_arha! @being_a_mallu_arjun_fan
Aa_shiwaniAwww wrote: Happy Birthday to our cutie Princess Arha welcome on insta bunny @alluarjunonline
Allu Arjun is one of the most popular Telugu actors and he has 1.73 millions followers on Twitter and 12,526,839 fans on Facebook. He is active on these platforms and often posts his family photos. Some of his adorable pictures have gone viral in the social media in the past.
Allu Arjun has amassed 119,000 followers on Instagram in less than 24 hours after he created his account and he did it without a single post on the page. With his first Instagram post marking the birthday of his daughter Arha, this photos is sure to create a lot of buzz on the social media.