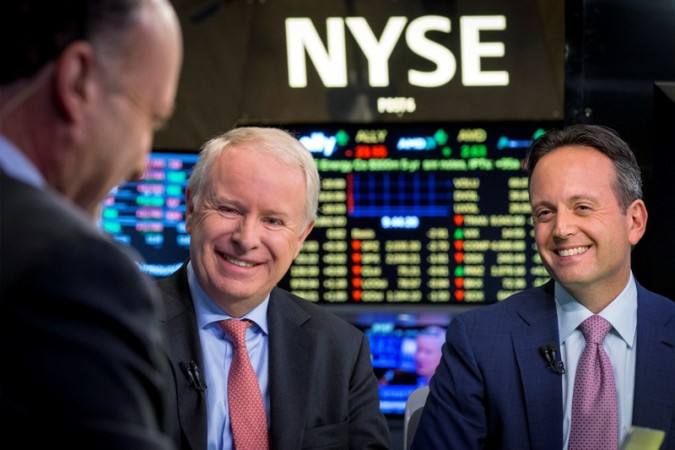 Allergan Inc., the famous Botox-maker, announced on Monday that it has agreed to a $66 billion take-over bid from Actavis Plc, the global pharmaceutical firm, beating Valeant Pharmaceutical's hostile efforts to acquire the wrinkle-treatment manufacturer.
Money Terms
Under the terms of the deal, Actavis will pay $219 per share of Allergan and will fund the amount through a combination of cash and stock. Through the deal, the companies hope to create a combined synergy of $1.8 billion and also hope to double revenues generating more than $23 billion by 2015 and create free cash flow of more than $8 billion by 2016.
"This acquisition creates the fastest growing and most dynamic pharmaceutical company in global healthcare, making us one of the world's top 10 pharmaceutical companies," Brent Saunders, CEO and president of Actavis, said in a statement.
"We will establish an unrivalled foundation for long-term growth, anchored by leading, world-class blockbuster franchises and a premier late-stage pipeline that will accelerate our commitment to build an exceptional, sustainable portfolio," Saunders added.
What's in the Deal
The deal will allow both companies to reach about 100 international markets and also expand their product lines while improving revenue and growth. The combined company is also committing to $1.7 billion R&D investments and will fuel 15 new projects to add to Actavis' portfolio.
"Today's transaction provides Allergan stockholders with substantial and immediate value, as well as the opportunity to participate in the significant upside potential of the combined company," David E. I. Pyott, chairman and CEO of Allergan, added in the statement.
"We are combining with a partner that is ideally suited to realise the full potential inherent in our franchise. Together with Actavis, we are poised to extend the Allergan growth story as part of a larger organisation with a broad and balanced portfolio, a meaningful commitment to research and development, a strong pipeline and an unwavering focus on exceeding the expectations of patients and the medical specialists who treat them."
Valeant's Defeat
The deal marks a huge defeat for Valeant Pharmaceuticals which was trying to pursue an acquisition for months with Allergan. After a few initial attempts, Valeant roped in hedge fund expert Bill Ackman to help seal the deal. Valeant raised its offer price, even went hostile with the bid approaching shareholders, but in vain.
The Valeant-Allergan battle was deemed one of the most complicated acquisition-bid of the corporate world.
The Actavis deal is a classic example of how force doesn't work all the time. According to Reuters, Actavis approached Allergan only a week or two ago when the Botox-maker was still dueling off Valeant's unruly ways in court. By taking a friendlier approach, Actavis emerged victorious.
The Actavis-Allergan deal is expected to close by the second quarter of 2015. The merged company will be headed by Saunders while all employees of Allergan will be absorbed. Two members from the Allergan board will join the Actavis board and the integration of the two companies will be led by the senior management of both teams.
The new company will operate from California. Shares of Allergan are up 5.31% while that of Actavis is up 1.71%.