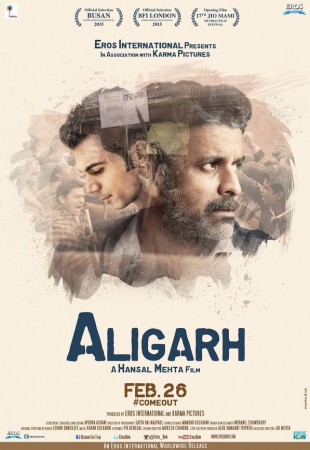 Hansal Mehta's directorial film "Aligarh" starring Manoj Bajpai and Rajkummar Rao is a must watch this weekend, say critics. "Aligarh," which will release Feb.26, has received rave reviews.
The film is a biographical drama based on the life of Aligarh Muslim University professor Dr. Shrinivas Ramchandra Siras, who was suspended from his job because of his sexual orientation. Manoj plays the role of professor Siras, while Rajkummar plays the role a journalist.
A sting operation conducted by a TV channel shows his character embracing a rickshaw-puller. Following the sting operation, he is suspended from his job and the film shows the struggle Siras had to go through after he lost his job.
"Aligarh," written by Apurva Asrani, has received rave reviews with four stars or more. Hansal has again directed a masterpiece after "CityLights." The director showcases the "battle against homophobia" in the simplest manner and yet wins hearts. The lead actors – Manoj and Rajkummar— have impressed with their stunning performances.
Read what critics have to say about "Aligarh" below:
Khalid Mohamed of Spotboye.com said: "Truly, for those who care for cinema of sense, sensibility and progressiveness, Aligarh is the place to go to."
Pinkvilla reviewer said: "Heartbreaking, triumphant, defiant, shocking, Hansal Mehta successfully manages to blow your mind with this heart wrenching film. Manoj, Rajkummar and Apurva all emerge as heroes in their own right."
Stutee Ghosh of The Quint said: "The performances no doubt constitute the soul of the film, but it's to the credit of Hansal Mehta and Apurva Asrani that they translate so beautifully on screen."
Aakriti Anand of Filmfare said: "The honesty and the haunting reality of the story are what make Aligarh such a compelling watch."
Surabhi Redkar of Koimoi.com said: "This is a must-watch! Aligarh is a class apart film that is filled with simplicity. It is emotionally riveting."
Shubha Shetty-Saha of Mid-Day said: "Mehta, who earlier gave us the gritty Shahid (2012), is evidently at his best when he brings true stories to life and, in his own way, fights against the injustice meted out to the protagonists."