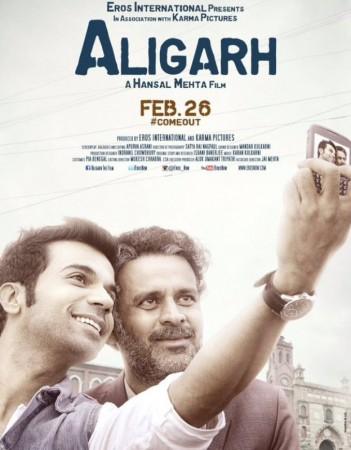 Rajkummar Rao and Manoj Bajpayee's much-awaited film "Aligarh" is set to hit the screens on Feb. 26. The film has shed light on a serious issue and the flick will see Manoj as a gay professor and Rajkummar as a journalist.
Directed by Hansal Mehta, "Aligarh" is a true story based on Dr. Shrinivas Ramchandra Siras – a Marathi professor at the Aligarh Muslim University. Manoj will portray Siras, who lost his job due to his sexual orientation. A sting operation exposed the professor, who was caught embracing a rickshaw-puller. Siras died under mysterious circumstances.
Rajkummar is seen fighting against the injustice done to Manoj, who faces severe criticism for being a homosexual. After "Citylights," "Shahid" and "NH10," the makers are back with another powerful story with some phenomenal actors of the film industry.
National Award winner Rajkummar has given some brilliant performances in the past and this time also the actor has been appreciated by critics. At the same time, Manoj has been immensely praised for his performance by critics as well as by Bollywood stars who have watched the film at the special screening.
Read more: Here is what critics have to say about "Aligarh"
Here are the tweets by celebrities:
Dia Mirza
The bright spots on my timeline: #Neerja and now #Aligarh. Progressive, sensitive, thought provoking cinema. A celebration for Indian Films!
Atul Kasbekar
Had followed Prof Siras story when it happened. The film #Aligarh raises so many questions about privacy n personal freedoms. Deeply moving.
Esha Gupta
#Aligarh holds you in its silences. @BajpayeeManoj your composure is mesmerising.@RajkummarRao we felt you.@mehtahansal such great cinema
Madhur Bhandarkar
Kudos to @mehtahansal @shaileshrsingh, @BajpayeeManoj, @RajkummarRao for #Aligarh.A finely crafted film with superlative performances.
Rohit Roy
What a fabulous performance by my buddy @BajpayeeManoj ! Every time u think what next, he comes up with an Aligarh!
Amit Sadh
#Aligarh is a path breaking film that I had the good fortune of watching @mehtahansal you're a genius! Thanks for this revelation!
Fell truly humbled to watch cinematic brilliance that is #Aligarh. Stellar performances by @BajpayeeManoj & my brother @RajkummarRao
Shriya Saran
Good night lovely people ! Do go watch @AligarhTheFilm wonderful film. Par excellence performance by @BajpayeeManoj
Jackky Bhagnani
Saw Aligarh.what a film and brilliant performances @RajkummarRao #must watch.@BajpayeeManoj take a bow.brilliant casting @CastingChhabra
Radhika Apte
#Aligarh is a must watch! Loved it. Congratulations @mehtahansal @RajkummarRao @BajpayeeManoj and @CastingChhabra for the brilliant cast!