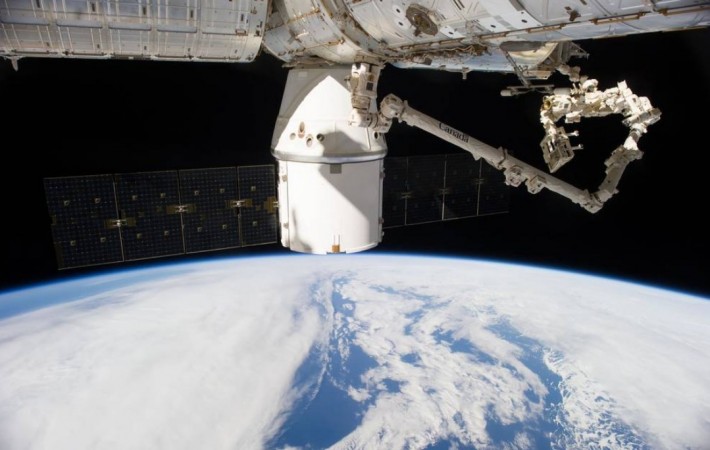 The International Space Station (ISS) might have come under attack by an alien mothership, conspiracy theorists believe. These theorists claim that there is a NASA footage that has captured the mothership blasting laser beam at the space station.
The footage shows a strange object opposite ISS, which appears to be emitting a red beam light at intervals. YouTuber Streetcap1, who shares videos of alien evidence and UFOs, uploaded the clip "UFO Ifres Red Beam at the ISS" on the social media channel.
"These lights appeared next to the space station. I checked the pre-archive footage and they don't appear on any other footage as far as I can see. Look at the red light coming from them and going to the space station. It's pretty strange," the YouTuber said.
"Maybe it's a lens flare, I don't know what's causing it. In the previous shots hours ago there was no evidence of it at all. It could be lens flare, but I can't see what was causing it. Its shape was what was most interesting to me."
The space station, which orbits 200 miles (320 km) above the Earth, remains unaffected by the laser beam.
The video has received thousands of views and comments since it was shared on YouTube. Several users said that an "alien mothership is attacking ISS," while several others said it is just a reflection.
"I might get a load of rubbish for saying this but I think that series of red lights looks like the lights of some huge vessel (mothership if you prefer). Funny how this occurs around the same time trump the chump wants nasa to go to the moon," user Vikki Ledgard said.
"I've wondered many times if the ISS has been contacted and/or visited, docked, by a 'visitor.' What was that red beam? All of the astronauts on the ISS have info we can only imagine about. That beam could be anything from information or even teleportation. We don't know so we can let our minds roll with it. That beam is real, the only definite we have!" Cindy WH-Witter added.
However, not everyone was convinced that there was an alien attack.
"Is it possible its a reflection of electrical panel inside the ISS?" user Erika Demiral said.
"So much BS why is it that every video of so called UFOs is either too Blurry out of focus show me a video in HD not that I'm gonna hold my Breath," user James Mcintyre added.