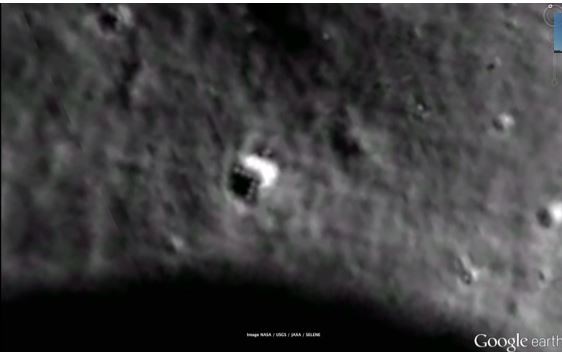 A mysterious object in a 90 degree angle featuring seven lighted dots has been spotted on the Moon's surface. The bizarre triangular wedge-shaped object was discovered on Moon by Google Moon viewer.
Several UFO sites have reportedly compared the mysterious object to an alien base or spaceship on Moon's surface.
The triangular wedge-shaped object was identified by a paranormal researcher, WowForReel, which in turn posted a video on YouTube showing the object on lunar's surface.
"No idea how to title this one really so went with first thing that comes to mind. After going there on Google Moon and staring at this thing for quite a long time I can say yes, it is really there, not faked and I have no clue what it is. I found nothing else like it in any of the other craters. Not much to be said other than .. it's there, take a look and tell us what you think it is," WowForReel said in a YouTube description.
Tech and Gadget News says that the object looks like the leading edge of an immense, triangular space ship which is similar to stealth aircraft technology. The website also reported that the mysterious object is much larger than any airplane ever built on Earth.
"To date, no other feature has ever been discovered which matches this shape on the Moon, or any other planet observed by satellite or exploratory rover," Tech and Gadget News reported.
This is not the first time a UFO was spotted near or over the lunar's surface.
Earlier, 18th century scientists reported UFO sightings near Moon. The scientists claimed to have seen unidentified objects and glowing spots on the natural satellite of earth.
In January 2013, two unidentified objects were spotted flying near the surface of the moon. A YouTube user uploaded a video last year, which shows two mysterious objects flying over the lunar surface.
Though the mystery of UFOs continues, reports of such sightings come time and again.
Meanwhile, check out the video of mysterious object with seven lighted dots here: