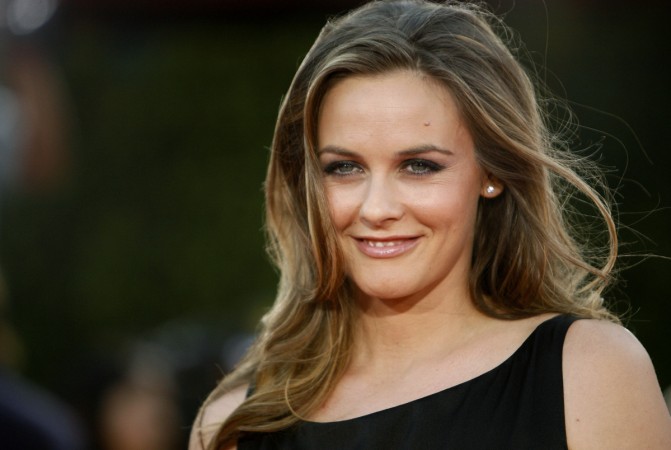 Posing naked for PETA's latest advertisement, Alicia Silverstone is seen holding a sheep's mask to show her support against woollen clothing and products. The actress is seen facing against the camera with her bare back seen in the advertisement. In the print commercial, the actress is quoted – "I'd rather go naked than wear wool."
Talking about the campaign, Silverstone said that wool in general has not been thought about by many, many people. It's just not something that's really brought to their attention. "The biggest thing that people always say to me is, 'Oh, but they just shear the sheep; they don't kill the sheep.' Shearing isn't like, 'Oh, let me just take your hair off because you need to give me your coat.' It's not like that," she was quoted in PETA's official blog post.
Silverstone also notes that, once their wool production drops, sheep are likely sold for their meat and even face the horror of live-export to the abattoir. "When the sheep are no longer useful, they're killed. So there is no happy place that they get to go for being a wool sheep," she shares.
A supporter of animal rights, Alicia Silverstone has been known to be associated with the non-profit animal rights organisation since the 90s. The actress has long stopped the usage of fur and leather products. In the late 90s, Silverstone also became a vegan. With this campaign, she has vowed not to use woollen products either.
The ad for the nonprofit animal-rights organization was released on PETA's official Instagram handle. The picture was shot by renowned photographer Brian Bowen Smith. In the photo, the 40-year-old actress is seen standing in a luscious green garden with the slogan reading "Wear your own skin. Let animals keep theirs."
Apart from Silverstone, actresses like Eva Mendes, Olivia Munn, Taraji P Henson and Penelope Cruz have posed naked for animal welfare advertisements to encourage people to be conscious of their wardrobe choices.