The trailer of Raazi starring Alia Bhatt has got everyone talking for the powerful plot that shows the actress playing the character of an Indian Kashmiri woman, who marries a Pakistani army officer to serve as a spy in the neighboring country. While the trailer and Alia Bhatt's portrayal has been getting a thumbs-up from all, one troll pushed the envelope. The troller tried to crack a joke saying that the movie is a biopic on Tennis player Sania Mirza, who got married to Pakistani cricketer Shoaib Malik but instead got trolled back.
One Twitter handle, known for making memes and jokes, compared it with the life of Sania; of course with the intention of creating a joke. However, the troll got trolled back by many. Sania also responded to it with great decency.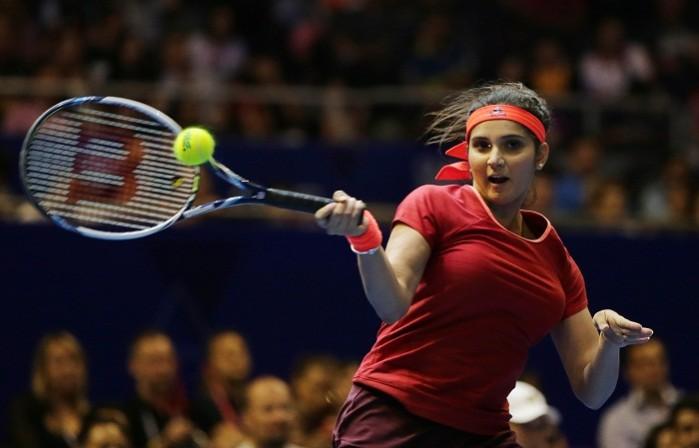 "Alia's Bhatt's 'Raazi' is a story of an Indian girl who gets married to a Pakistani man but she still works for India. Basically, this movie is a biopic of Sania Mirza. #RaaziTrailer [sic]," the troll tweeted.
Sania responded top it saying, "Ummm.. I think not [sic]" Meanwhile, many replied to the troll's tweet calling it a cheap joke. While some called it a failed attempt at cracking a joke, some others slammed the troll for making such a comment on a film that is based on someone who sacrificed her life for the nation.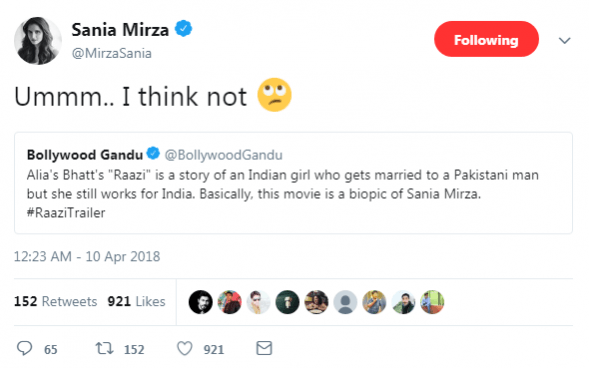 Check some of the replies to the tweet here:
Bhai tum meme edit karo, jokes rehne do

— « vipul » (@AmSoDone) April 10, 2018
Very childish joke. Fit only for 10yr olds. Like: Q) which phones do prisoners use? A) cell-phones!!! #Bollywood #jokes

— paritosh mishra (@paritosh2020) April 10, 2018
U do realise that it's a true story being told?may be movie is the Worst ever,but u r making fun of a girl who sacrificed her life for the https://t.co/D2nwo6C1vo that cool ? Cos I don't think people like u would even give a hair 4 country,oh wait,u don't have any. #RaaziTrailer

— puneet chitkara (@chitkarapuneet) April 10, 2018
Bhai the movie trailer says its based on a true story..ur tweet is so dis-respectfull for tht young lady who risked her everything for the sake of her country. Pls delete it?

— aMrInDeR (@kaushal_am) April 10, 2018
Based on a real story, Raazi features Alia playing the role of an Indian Kashmiri woman spy who gets married to a Pakistani Army officer played by Vicky Kaushal. The spy-thriller is directed by Meghna Gulzar. People are calling it a brave attempt at showcasing the courage of the unsung heroes of India, who otherwise don't appear in the history books. Raazi is slated to be released on May 11.
Watch Raazi trailer here: