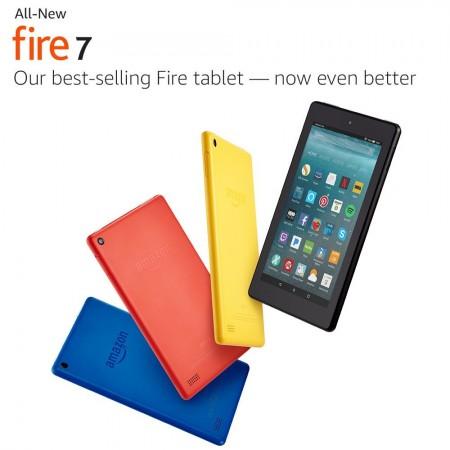 Amazon has just unveiled its brand new Alexa-powered Fire 7 and Fire HD 8 tablets. Both Fire tablets are now available for pre-order via Amazon US starting today.
The Fire 7 comes with an enhanced 7in IPS display, long battery life of up to eight hours on normal use, thinner and lighter design, 8GB of internal storage with storage expansion support up to 256GB, improved Wi-Fi connectivity and Amazon's new Alexa voice service.
On the other hand, Fire HD 8 ships with an 8in HD display (1280x800 pixels), a quad-core processor, 16GB of internal storage with up to 256GB expansion support, 12 hours of battery life and Alexa voice interface.
The Fire 7 is priced at $49.99 while the Fire HD 8 can be pre-ordered for $79.99. Both tablets include free shipping offer on eligible orders.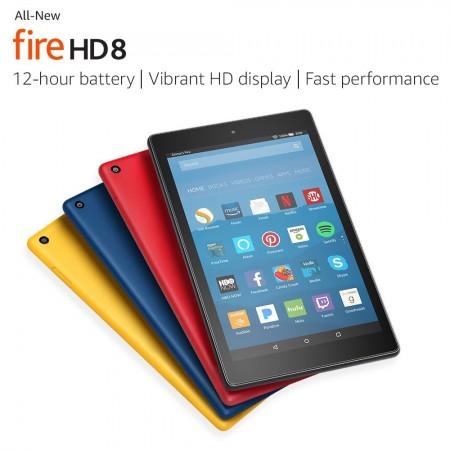 Here is what Kevin Keith, Amazon's general manager at Fire tablets, said about the new product:
We think customers should expect more from their tablet—better hardware, more features, access to tons of great content—but shouldn't have to pay a premium for it. Our approach is to offer premium products at non-premium prices. The all-new Fire 7 is thinner and lighter, offers an improved display, longer battery life, and better Wi-Fi connectivity—while keeping the same low price of $49.99. For only $30 more, the all-new Fire HD 8 offers a vibrant 8" HD widescreen display, up to 12 hours of battery life, faster performance, and 16 GB of storage. Plus, both tablets include Alexa—it's an incredible value we think customers will love."
The shipping of Fire 7 and Fire HD 8 tablets will start on June 7. The available colour options are black, punch red, marine blue and canary yellow.
Interested users in the US may place the pre-order for Amazon Fire 7 here and for Fire HD 8 here.