Artificial intelligence is proving its worth in many ways. Digital voice assistants such as Google Assistant and Alexa introduce AI to consumers in the most user-friendly manner. While Google Assistant is found on Android devices and Home smart speakers, Alexa is exclusively available on Echo smart speakers.
But if you'd like to take Alexa's wit on the road with you, instead of just using it at your home or office where Echo speakers are installed, renowned watchmaker has the ultimate solution. Guess has launched a new Men's Stainless Steel Connect smartwatch, which comes with integrated Alexa.
The Guess smartwatch isn't your ordinary wearable, like Apple Watch or Samsung Galaxy Gear. The smartwatch looks like an ordinary analog wristwatch, which is ideal for those who do not want a geeky-looking wearable.
The Guess Men's Stainless Steel Connect smartwatch can be paired with iPhones and Android smartphones, making it convenient for users of all phones. the smartwatch is supported on iOS 8 and Android 4.0.3 and later devices. Besides Alexa-integration and multi-platform support, the smartwatch comes with several other features.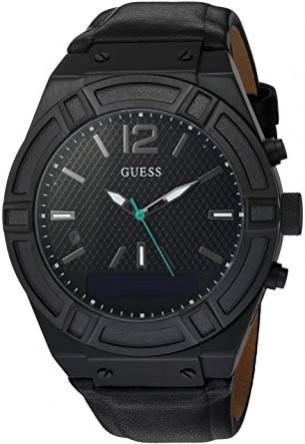 The 45mm case diameter Quartz watch is splash resistant and has a reliable battery life. According to the product listing on Amazon, the smartwatch lasts 3-5 days on a single charge and the analog side has up to 2 years.
These additional features are pretty standard for an analog smartwatch. But the Alexa-integration is what sets the Guess smartwatch apart. It is as simple as tapping the screen of the smartwatch and asking any questions to Alexa.
It is not clear if Alexa on Guess smartwatch has the same skills as seen on the Echo smart speaker, but there's no reason not to be. The product listing says users can avail thousands of skills such as weather updates, traffic reports, sports scores and more, all of it while on the go. It is great for users who always wanted to have Alexa on their smartphones, as the Guess smartwatch offers Amazon's digital voice assistant on smartphones even if it is by an extension of smartwatch.
But if you're looking to buy the smartwatch in India, you might be out of luck. The smartwatch is listed for $199 on Amazon India, but there are resellers in India offering it for around Rs 26,000.