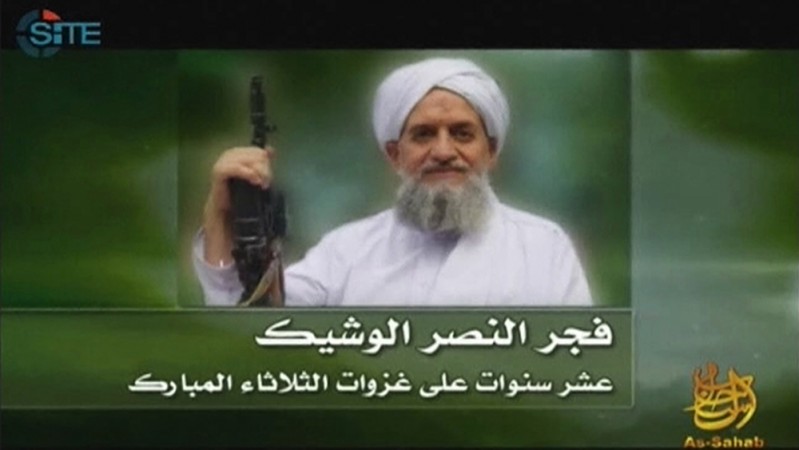 The newly formed Indian wing of Al-Qaeda made an attempt to launch an attack on the anniversary of 9/11, but the group's first ever attack mission ended in failure, a complete embarrassment to the branch launched only last week with much pomp and pageantry.
The offshoot of the deadly militant outfit formed by Ayman al-Zawahiri, suffered a major setback when three of its fighters were killed and seven arrested thereby thwarting a major terror attack, reportedly aimed at destroying an American aircraft.
Heavily armed militants attacked a naval dock in Karachi's sea port last Saturday night in what seems to be their mission to first capture the dock and use the Navy missile system present in the vessel to target an American aircraft. But before they could execute their plans, Pakistan Navy overpowered them in a counter-ambush capturing many while killing others among the militants.
"It was a complete failure, they did not do any kind of damage, some were captured and we caught more, seven so far and may be more to come. They were well-equipped and came with the intention of taking a ship into their custody but they were caught in the initial stages," The Telegraph quoted a senior source close to the investigation, as saying.
The Indian wing of Al-Qaeda, which was unveiled by Zawahiri last week in order to step up its competition with the growing hardliner Sunni militants, Islamic State, soon claimed responsibility for the attack on Thursday and revealed that Pakistan Navy had carried out the attack. It is not clear if the Navy men were themselves members of the outfit, or the attackers were disguised as navy members.
"The Naval officers who were martyred on Saturday in the attack on Karachi were al-Qaeda members. They were trying to attack American marines and their cronies", the group said in a statement as noted by reports.
The statement further added that the militants had seized an American vessel but were thwarted by Pakistan navy troops. "The Pakistani military men who died defending enemies of the Muslim nation...are cursed with hell", they said.