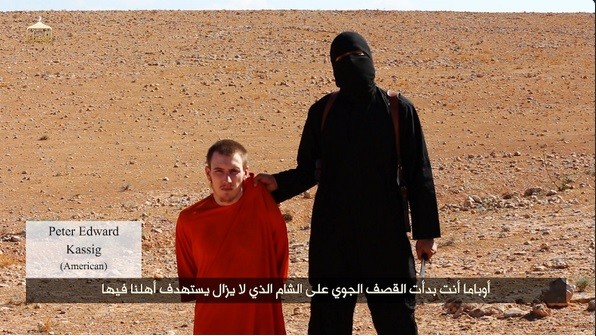 A Senior al Qaeda jihadist pleads the Islamic State (IS) group to spare the life of the American hostage Peter Kassig, insisting that he served as an aid worker in Syria and treated jihadist fighters, including himself.
This comes a day after the mother of the hostage - who recently changed his name to Abdul Rahman Kassig after converting to Islam - released an urgent plea to the militant group to release him.
A senior fighter from the Nusra Front, Abu Omar Aqidi, reportedly took to Twitter to express his opinion on the matter. It can be noted that the Nusra Front, a Syrian jihadist group aligned with al Qaeda has been at odds with ISIS group and have often branded them "too brutal."
In his tweets, Aqidi claimed that Kassig gave him medical help last year in Eastern Syria, the same place where Kassig was then providing emergency aid before he was taken hostage by the Sunni hardliner group.
The post has received the attention of Kassig's parents, which has further bolstered their online campaign that features testimonials from aid workers, according to CBS.
Aqidi's tweet, it has been noted, has also got the jihadist community's attention, sparking a debate about whether it was a moral decision to behead someone who helped them.
In her latest plea, Kassig's mother had said: "We have tried to contact you directly to pela for the life of our only son, Abdul Rahman Kassig, and have not received any response."
"Please tell us what more we can do so that Abdul Rahman may continue to serve and live his life in accordance with the teachings of Islam."